What are the differences between buyer's agents, seller's agents and dual agents?
November 10, 2014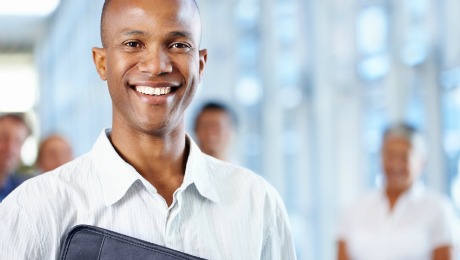 Let's say you're driving around, looking at homes for sale. When one catches your eye, you excitedly call the agent's telephone number that's listed on the "for sale" sign…or do you? Prospective home buyers soon learn that dealing with real estate agents is not exactly a straightforward proposition. Some agents only work for sellers and others focus their efforts on tracking down dream homes for buyers. That's why it's best to do a little research and choose an agent who will have your best interests in mind. What it boils down to is whom the real estate agent or broker actually represents. Here's a quick look at the different types of real estate agents.
Buyer's agents obtain a written agreement from each of their clients stating that they work exclusively for them. When house hunting, unless you give your permission for your real estate agent to divulge information to the seller, whatever you disclose to that individual is confidential. You can feel comfortable sharing personal details with your agent, such as your budget, personal preferences about neighborhoods, and other intimate details that will influence your home buying strategies. Remember, they work for you!
A seller's agent aligns him or herself with the homeowner who has a property listed with the real estate firm. Although a seller's agent has a responsibility to the homeowner, they are obligated to assist hopeful home buyers by answering their questions. They are also required under the law to truthfully answer questions from prospective buyers in regard to the property. Buyers need to fully grasp the role of a seller's agent. No matter how chummy they may appear, it's best to keep some details private, especially financial ones. For example, if you tell the agent about another real estate transaction that fell through and any of the extenuating circumstances, don't be surprised when they share those details with the seller.
Although it is not allowed in every state, there is another type of agent scenario, known as a dual agency. Some states prohibit this practice because it is viewed as a conflict of interest. At any rate, here's how it works:
Dual agencies can occur with two agents or with a single agent. This can happen when brokers license all agents, and the buyer's agent and the seller's agent are licensed under the same broker.
In a dual agency with a single agent, the seller's agent who also acts for the buyer is functioning under a dual agency. When possible buyers who don't have a buying agent call a seller's real estate agent, they can ask the selling agent to present an offer on their behalf. In this case, the agent is acting as a dual agent. It is noteworthy that in the states where this type of arrangement is allowed, the real estate professionals must inform the buyer and the seller that the situation is one of "dual representation." The parties involved, that is, buyers and sellers, must in turn sign consent forms indicating that they understand the concept of dual agency, along with the restrictions levied on the real estate agent by this type of agreement. If either the buyer or seller declines to sign the dual agency agreement, the real estate deal cannot continue. Once the dual agency agreement is fulfilled, the real estate agent becomes known as the disclosed dual agent.
This type of arrangement usually takes place out of convenience. It can present unusual challenges for the agent, however. The agent must provide full disclosure regarding the property to the buyer but cannot disclose confidential information about the seller. When it's time to make an offer, a dual real estate agent cannot advise the buyer on how much to offer. By the same token, they are also forbidden to advise the seller to accept or reject an offer. These issues are why this type of approach is no longer permissible in many states. In other states, consumers are warned and asked to sign a consent form acknowledging that they understand the limitations of such a transaction. In Washington, DC, buyers and sellers are given this notice: "when the parties agree to dual representation, the ability of the licensee (the agent) and the brokerage firm to represent either party fully and exclusively is limited."
Whether a home purchase or sale is in your future, take a little extra time to research local real estate agents. Weigh the pros and cons and choose someone who will have your best interests in mind. And…become familiar with the laws that govern real estate transactions in your state.
Related Topics
Little Known Facts About Real Estate Agents
The Difference Between a REALTROS® and a Real Estate Agent
Subscribe To Our Newsletter
Sign up with your email address to receive news and updates.