NAHB Predicts 26% Single-Family Housing Growth for 2015
December 5, 2014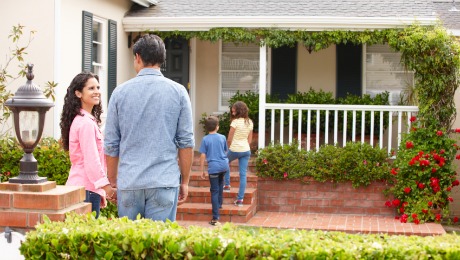 It is no secret that the nation's housing industry is a major economic driver. In an effort to identify what the future holds, how to steer into a positive direction and prepare for both best and worst case scenarios, thousands work behind the scenes to try and figure out what is on the horizon for the U.S. housing market. Industry pros, economists and housing market analysts spend a significant amount of time reviewing trends and making predictions. Information is culled from a dizzying array of sources, news items, surveys, and statistical data. Looking ahead to 2015, some of the latest forecasts were made at a webinar sponsored by the National Association of Home Builders (NAHB).
At the NAHB's 2014 Fall Construction Forecast conference, the organization's chief economist, David Crowe had some very optimistic calculations. The take-away nugget that Crowe offered is this: Through 2015 single-family housing starts will go up by 26 percent. The current level of units for 2014 is around 637,000. Based on Crowe's estimation, that number will climb to 802,000 over the course of 2015. And, according to Crowe's calculations, "by the end of 2016, there will be another 1.1 million single-family housing starts."
Apparently others concur that the nation's housing industry is on solid ground. The chief economist for Moody's Analytics, Mark Zandi, also attended the NAHB's webinar. His firm's findings lead him to believe that next year's single-family home starts will be on a much larger scale-a 56 percent increase or close to 1 million single-family housing units by the close of 2015 is what the folks at Moody's think.
As for what is making everyone feel so confident about the future, the NAHB gives a nod to a strengthening economy, low and holding mortgage rates, increasing household formations, and a rising increase in demand brought on by a variety of developments. Job growth, rising rent, and less worries about the stability of the U.S. housing market are factors that are working together to boost a greater demand for single-family homes.
Crowe also noted that, "Single-family builders are feeling good. They are not overly confident, but confident enough to keep moving forward." He explained further that a stronger economic picture will spur trade-up buyers to finally get back in the game.
Again, the spokesperson for Moody's Analytics echoed the NAHB's sentiment. Mark Zandi explained it quite simply-that job growth is causing an increased demand for housing. According to Zandi, "Currently, we are creating about 225,000 jobs per month, or 2.75 million per year. That is double the pace necessary to reduce unemployment and under employment, which augers very, very well for housing demand and the housing market more broadly." He also observed that current inventories of single-family homes are far lower than they must be to meet the growing demand.
Along with the more robust economy, credit the Millennials with getting things fired up. It does not take a genius to figure out that all of those 18 to 34 year olds who were forced to live with their parents after the last recession are now back on track and on their way to becoming hopeful home buyers. In the big 'snowball effect" scheme of things, this activity will create even more jobs as the housing industry adds to its ranks to keep up with the need for more single-family homes!
Remember that Moody's Analytics is a large credit risk management firm and knows how to crunch the numbers. Zandi crunched a few more and reflects that, "increasing the housing stock by 700,000 units to meet this unmet demand would create 2.1 million jobs, which would reduce unemployment by 1.5 percentage points."
Let's hope all of these predictions come true!
Subscribe To Our Newsletter
Sign up with your email address to receive news and updates.