RealtyTrac Names Best College Towns for Buying Rental Property
December 7, 2014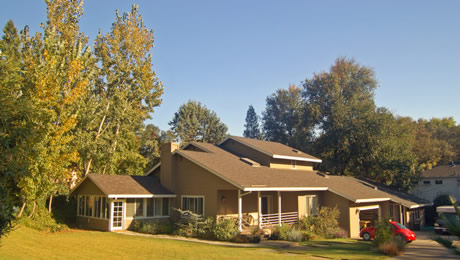 Prospective investors rejoice! The gurus from RealtyTrac, the real estate information firm that keeps up with the nation's distressed property market, has recently published some valuable details about which college towns are best to invest in rental units.
It's something that almost every parent with college-age kids has pondered, "Should I save on the high cost of room and board, and just buy a place for my scholar instead? Couldn't it work really well, if my son or daughter in turn rents out part of the property to a roommate? After graduation, won't it be easy to sell, or I could just keep it…hmm."
If that sounds familiar, you're in luck. Curious about which college towns are hot for buying to rent or flip property? RealtyTrac has figured it all out just for you! The firm's research team reviewed four-year colleges with a total enrollment of 20,000 or more. Next only those located in counties with an unemployment rate under the national average of 6.2 (June 2014) were considered.
In order to make it a winning prospect, other aspects such as median home prices, annual gross rental yields and average fair market rent prices were also considered. Based on that information, here is the list of ten towns deemed the best for buying and holding onto a rental home in a college town.
If you are in Ohio, you'll be interested to hear that 4 Buckeye State college towns made the list. (please note the figures listed represent the annual gross rental yield)
The University of Akron-13.81%
The University of Cincinnati-11.28%
Kent State University-10.09%
Ohio State University-Columbus-10.97%
Here are the remaining 6 college towns prime for investment buyers:
Thomas Edison State College-Trenton, NJ-13.81%
The University of Florida Gainesville-11.34%
Northern Illinois University-DeKalb-10.46%
University of Pennsylvania-Pittsburgh-10.26%
University of Nebraska-Lincoln-9.70%
Broward College-Ft. Lauderdale-Florida-8.79%
For those interested in buying and flipping a college town property, here are the best bets: (first figure $-represents the average flip profit and the second denotes return on investment or ROI)
University of Minneapolis-Minnesota-$15,292 ROI-65.51%
San Francisco State University-$402,790 ROI-54.16%
University of Washington-Seattle-$168,247 ROI-61.88%
University of Nebraska-Lincoln-$53,763 ROI-55.01%
Thomas Edison State College-Trenton, NJ-$40,497 ROI-48.06%
University of Colorado-Denver-$103,658 ROI-45.86%
University of Florida-Gainesville-$41,235 ROI-47.95%
University of Cincinnati-$45,929 ROI-44.88%
University of Akron-$35,909 ROI-42.95%
NC State University-Raleigh-$61,628 ROI-38.52%
In considering investment properties in college towns, decide whom you would prefer to have as tenants-college faculty members, graduate students or traditional students in 2 or 4-year programs. Depending on the scenario, the property could represent an uneventful long-term cash flow or months of headaches.
As a landlord who may be dealing with very young adults, it is vital to be aware of the issues that accompany such a role. In addition to heavy wear and tear, rental units for students see more than their share of outright abuse. If you go this route, seek the advice of other landlords who are savvy in the ways of the college market. Discuss points such as deposits, pet, party and smoking policies, warnings, and how the eviction process works.
RealtyTrac has also created a very interesting interactive heat map which illustrates investment opportunities in 95 college towns throughout the U.S. Please use this link to the source page for this article and the map: http://www.realtytrac.com/content/news-and-opinion/best-college-towns-for-buying-rentals-flipping-in-2014-8156
Subscribe To Our Newsletter
Sign up with your email address to receive news and updates.