Holiday Gift Ideas for New Homeowners
December 9, 2014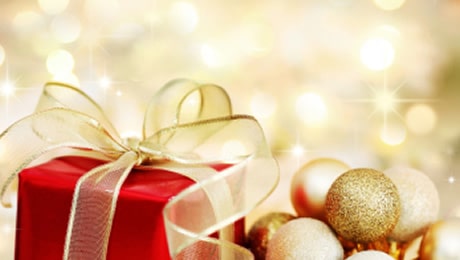 Beyond the cliché neckties, sweaters and pajama sets, the holiday season is the perfect time to consider practical gifts. Investing in things that will be appreciated and used for years to come is a commendable goal for any gift giver! This is especially true for those who have any new or aspiring homeowners on their shopping list. So before heading out to the mall for the usual boxed gift sets, Chia Pets and other predictable choices, consider these suggestions instead:
Lawn and Garden
This is often one of the last areas that gets any attention when it comes to housewarming presents. However, it's a snap to fill that void!
Hand tools such as leaf rakes, a shovel and/or snow shovel, small ax, push broom, tree saw, pruning shears, weed fork, and garden gloves are great choices. You can find these items in just about any store that sells basic gardening equipment. Sears is a good place to start, because their Craftsman hand tools offer this warranty: "If any Craftsman hand tool ever fails to give complete satisfaction, return it to Sears for free repair or replacement."
Help the new homeowners create their very own bird sanctuary with a shepherd's hook, bird feeders, seed, perhaps a small birdbath and a bird book that's suitable for the region.
For environmentally conscious homeowners, help make it easy for them to recycle with designated receptacles for glass, aluminum, plastic and paper. A backyard composter is another useful gift that lasts forever.
New or seasonal front door mats are a nice idea. If the home has several exterior entrances, they could likely use more than one welcome mat. Stationary boot and shoe brush mats are helpful for those who live in snowy areas. Here's one from Plow and Hearth: http://www.plowhearth.com/softswipeandreg;-ultra-tread-cleaner.htm
A foolproof choice is of course a gift card to a big box home and garden store. Another option is to get other friends and family members involved to stock a tool kit for the new homeowners. Check out this list of "12 Essential Tools."
For those with porches and decks, wind chimes, flowerpots and watering cans are thoughtful presents. Window boxes that slip onto porch and deck rails are easy to install and can come pre-planted with seasonal annuals and bulbs from the considerate gift giver! Here's what they look like.
House numbers, front door knockers, flag and wreath holders, and outdoor window thermometers are a few more inexpensive ideas for the lawn and garden theme.
For the Home
Although the rookie homeowners may have already received the usual stuff for their new place in the way of housewarming and/or wedding gifts, there are probably still some things they'd appreciate.
Fire extinguishers are not one of those things we like to think about, however, when you need one, you really need it! The same goes for fire ladders that are a must-have for two-story houses. They may not be at the top of the "Gift Ideas" list; however, they are invaluable should a serious fire ever occur.
BPA-free food storage containers may not be an exciting gift either, however, it's a guarantee that they will be appreciated and used time and time again. Reusable muslin bags that help produce last longer in the fridge, are also handy to have.
Mortgage payments, trash day, HOA dues…The new homeowners are going to have a lot of details to keep up with such, so a dry-erase calendar and message board with key hooks is another practical recommendation. And speaking of new details, homeownership also comes with lots of important documents, which is why a fireproof box is always a welcome surprise.
A paper cutter and/or paper shredder may sound like a strange gift. However, they both come in extremely handy. Small paper cutters are extremely useful, especially for school and office projects.
Natural cleaning supplies, washable cloths, and a few spray bottles for DIY cleaners arranged in their own basket makes a very practical gift. If using less harmful supplies is something they want to do, but haven't a clue, include this little guide as well.
Since composting begins at home, specifically in the kitchen, an attractive, non-corrosive covered container to keep on the counter or under the sink is an often overlooked, yet very much needed present. They come in many attractive styles made from stainless, porcelain and even copper.
Even if they do not live in a hurricane, tornado, or blizzard prone area, create an emergency kit for the new homeowners. Start with a large Rubbermaid container and stock it with candles, matches, flashlights and batteries, canned food, a manual can opener, battery-operated radio, 2 gallons of water, and a first-aid kit. The battery-operated radio and first-aid kit also make great stand-alone gifts on their own!
Reading material for the newbie homeowners is one more thoughtful idea. Along with books on cooking, home maintenance and repair, plus gardening, magazine subscriptions to publications such as Southern Living, This Old House, and Better Homes and Gardens are always well received!
Other Posts You Might Enjoy
Tips for Buying a Home During the Holidays
Improving Your Home's Curb Appeal in Winter
Subscribe To Our Newsletter
Sign up with your email address to receive news and updates.