Countertop Materials that are Giving Granite a Run for its Money
December 13, 2014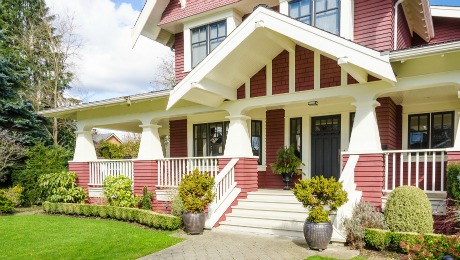 Even though it may seem that granite countertops have been a "must-have" for virtually forever, they actually only became a popular choice for home kitchens in the 1980s. In spite of a very high price tag, granite quickly evolved as the gold standard for countertop material. Known for their stunning, polished finishes, granite countertops edged out state-of-the art appliances and took center stage in kitchens around the country. Until recently, granite's reputation as the hands down "best choice" as a countertop material has not waivered.
Now, public consciousness has been raised about the dangers of quarrying granite, the health hazards it poses for workers, the unsustainable aspects of shipping it great distances, and the fact that it is more fragile than first believed. The trends of green building and upcycling have also led designers and homeowners to look for alternatives to granite. The largest international kitchen trade show in the world, Eurocucina 2014, was held this past spring in Milan. Participants were wowed with a variety of new kitchen innovations including several fresh ideas for countertops. Here's what's new:
Tempered Glass
Great because of the tremendous number of color choices available, tempered glass adds an air of sleek elegance. It is an ideal choice for contemporary settings because it is translucent and inviting to the touch. Because it is non-porous and can withstand high heat, it get high marks for durability. The fact that it is easy to clean and scratch resistant are two more big plusses. It is also really unique in that sandwiching fabric or artwork between its layers can customize it even more. See some examples here.
Ceramic
Of course ceramic tiles have been heralded for generations as being scratch resistant, easy to clean and tough. Innovations on the ceramic theme include larger pieces in a rainbow of color choices. These types of countertops are suitable in practically any style kitchen due to their mild-mannered, yet solid appearance.
Nanotech
Many kitchen designers feel this hi-tech material is the future as far as countertops are concerned. Take a look at the major selling points of this newly engineered product: water, stain and bacteria repellent, heat and acid resistant, soft to the touch, color fast matte finishes, scratch, fingerprint and impact resistant. This material is also referred to as resin and thermoplastic, learn more and see a few pictures here.
Wood
Yes – everything that was old is new again, eventually! At Eurocucina 2014 there were plenty of examples of countertops that featured wood as the main attraction. And no…not talking about butcher block from the Brady Bunch house. Instead show goers saw unusual finishes on oak, maple, pine, ebony and bamboo, such as distressed, painted or pickled. There were also counters constructed from wood sections combined with other materials including copper, tin, granite and tile, all which caused quite a stir at the show.
Other new choices for countertops were stainless steel, cement, and recycled granite. New versions of stainless are better at staying smudge and scratch-free. Cement is considered a "green" product and allows complete artistic freedom. Just as folks used to write or embed stones, shells, marbles and other keepsakes into the freshly poured cement of driveways and patios, so are those installing cement countertops! Recycled granite countertops are also considered a more sustainable alternative. Scrap pieces are taken from solid installations, tumbled for a uniform, glossy shine, pressurized and affixed to fiberglass. It is next placed on top of existing countertops, which keeps those old Formica ones in circulation and out of the landfills.
Other Posts You Might Enjoy…
Most Popular New Home Design Features
Futuristic Building Materials That Could Revolutionize Home Design
Subscribe To Our Newsletter
Sign up with your email address to receive news and updates.