Tips for Selecting a Home Renovation Company
December 23, 2014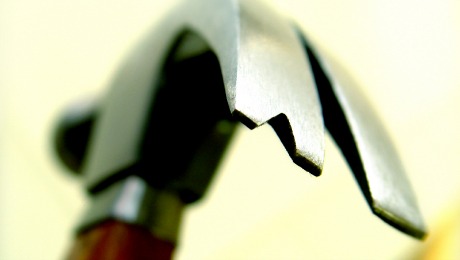 Embarking on a big home improvement project that involves a crew, inspections and permits is exciting. It's easy to get carried away and imagine yourself in an "Extreme Makeover" episode of your own! Whoa now…Whether you recently purchased a fixer-upper or just want to update or change your home, formulate a plan and proceed with caution. From a bathroom remodel to a kitchen upgrade or addition, the trick is to find the right person for the job. Bringing in a professional will also help a homeowner discover if the project in mind is even feasible. For example, that open-floor plan you have your heart set on may not be so easy. "Sorry, Mr. and Mrs. Smith, but that's a load-bearing wall that can not be removed."
So, how to save yourself time, money and a multitude of headaches? Here are a few tips that should help:
Word of Mouth
Seek out referrals from friends, neighbors and family members for those who do the type of project you have in mind. A local homebuilder or architect may also be willing to suggest someone. Once a few hopeful candidates are identified, obtain several references. Be sure to confirm them with a phone call or e-mail. Also, verify if the firm is affiliated with any national or local organizations such as the National Association of Homebuilders or the National Association of the Remodeling Industry.
Right Firm for the Job
Determine if the firm is able to handle your proposed project without the help of an architect. Be aware that some remodeling firms only do construction while others offer design and build services. If you'd be dealing with a contractor, obtain a list of whom does the subcontract work for plumbing, wiring, masonry and so on. Check their references as well.
Confirm points such as who will be supervising the project, how many extra drafts and alterations to the final plans are included, and how much input you'll have throughout the job.
See Their Work
If possible check out some of the individual's work in person. Ask important questions such as: Was the work finished at or near the budgeted price? If not, were the differences reasonable? Was the work done in a timely manner and on schedule? Did the firm bring in reputable subs to assist with the work? Was the contractor happy to return and correct problems? Would they use him or her again? Was the crew respectful and did they keep the area tidy and safe during the project? Are they happy with the results?
Nitty-Gritty Details
Check if the individuals are licensed in your state, insured, and whether or not there is any pending legal action against them. Find out how many years they have been in business. Discuss the building inspection and permit processes that will be required for your prospective project. Ask if the firm and its subcontractors carry liability and worker's compensation insurance. Find out if they can provide insurance certificates. Inquiries should also be made regarding lead certification, warranties, the contract and what it covers, and how payouts for labor and materials will take place. Document how materials will be selected and paid for, the entire budget, and set start and completion dates.
Until you are satisfied, keep looking and remember, "when in doubt – don't." Choosing the wrong folks for a renovation project can have disastrous results.
Budgets and Bids
Try to do a little research on the type of project you want executed. Explore time frames plus cost and labor estimates. That way, you can make an informed decision when it's time to choose. Obtain several bids and avoid the temptation to sign on the lowest bidder. Considerably low bids can be a red flag that the firm is desperate for work or just out of step with what the job will realistically entail in terms of materials and labor.
This may all sound like more details than you had imagined. Just keep in mind that being thorough and leaving no stone unturned will be oh so worth it in the long run. Otherwise, you could end up like the Andree's of Wilmington, NC. Even though they checked his references and visited his completed projects, their unscrupulous contractor completed an addition without first passing the framing inspection. As a result, the entire project (a large front porch) had to be removed and redone. When the contractor declared bankruptcy, the homeowners were left holding the bag. Don't let this sort of thing happen to you!
Related Topics:
Tips for Hiring a Home Cleaning Service
5 Remodeling Projects You Can Skip
Subscribe To Our Newsletter
Sign up with your email address to receive news and updates.