Has Winter Become the Best Time for Brave Buyers and Eager Sellers?
December 25, 2014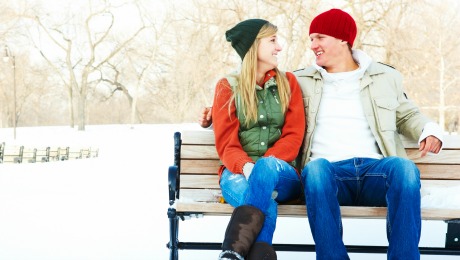 The dreary gray months of winter have always been regarded as the slowest time of year for home sales. However, that trend seems to be shifting. Is this phenomenon due to an increase of online home shoppers or better winter apparel that makes house hunting in frigid temps more comfortable? Regardless of the explanation, wintertime real estate sales have been heating up!
Denver, CO real estate broker, Justin Knoll recently took to the streets to ask residents their thoughts on buying a home during the winter. (Based on information from the National Association of Realtors, the winter season is from December 21st through March 20th) The responses to the question: "If you found the perfect house this time of year, would you buy?" were all overwhelmingly affirmative!
When questioned about the reasons that a wintertime home purchase would be agreeable, Mile-High City folks explained:
A perfect house is a perfect house-no matter what time of year you find it.
Winter is a great time to move, because things are slower and not as demanding as during spring breaks and summer holidays.
Shopping for a property in the cold allows you to discover important points such as how well it's insulated, the integrity of the doors, windows and roof, and how well the heating system works.
A new study by the real estate firm Redfin, revealed that, "the housing market doesn't hibernate during the winter." Redfin's findings show that the colder months can be the most beneficial for both buyers and sellers.
The study was conducted over a two-year period and analyzed a variety of factors such as nationwide real estate listings, sales prices, and days-on-market figures from 2010 through October 2014. One of the main points brought to light is that February is "historically the best month to list." Redfin's researchers noted that at that time, 66 percent of the homes listed sold within 90 days.
Another interesting discovery was that even in cities that experience severe winter weather, namely, Boston and Chicago, home sales fared better from December through March! Also surprising is that, based on Redfin's study, sellers seem to do much better at receiving their asking price or above during that same period. In fact, Redfin analysts report that the four months of winter prove to net more sales in which sellers receive higher percentages above their asking price than any other months, aside from April and May.
Here are some other interesting points the Redfin research team found out:
The number of property listings that resulted in the highest number of sales that sold for more than their asking price occurred in December of 2012. That total was 17 percent.
There is less competition among buyers and sellers during the winter market because the majorities in both camps tend to wait for the spring and summer months.
Smaller inventories are beneficial for sellers since hopeful buyers have less to choose from, which also allows sellers to obtain their desired price or better!
Many of the nation's largest corporations and firms actively hire new employees and transfer existing ones from December through February. This helps create a pool of wintertime buyers and sellers.
Redfin's chief economist, Nela Richardson observed, "Winter buyers tend to be serious buyers. Most people are not window-shopping in December and January, like they do in the spring months." She added that a home can sell at any time of year when it is priced right and shows well.
The National Association of Realtors (NAR) has also considered this topic and agrees that winter can be wonderful for home sales. The NAR's official publication, RealtorMag conducted a study in 2011 and found that, "60 percent of real estate professionals advise their sellers to list a home during the holidays because they believe it's an opportune time to sell." More than 80 percent of the NAR members polled agreed that there are more serious buyers on the hunt during the holidays. Sixty-one percent of the real estate brokers noted that fewer listings during the winter months give sellers an edge.
More Cold Weather Posts You Might Like:
Tips for Preparing Your Home for Winter
Snow Removal Tips
Subscribe To Our Newsletter
Sign up with your email address to receive news and updates.