Pros and Cons of a USDA Mortgage
February 12, 2015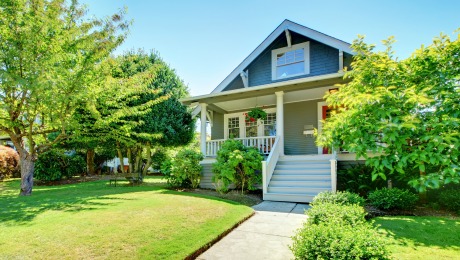 Those who have had difficulty securing a down payment for a home purchase may be interested in finding out more about zero-money down loans from the U.S. Department of Agriculture. Besides VA loans, this is the only other government-sponsored financing program that offers the opportunity of a no-money down home purchase. The program was created in 1949 by the U.S. Department of Agriculture with a goal of providing residents of rural areas with the opportunity of home ownership. It is currently active in all 50 states. Approved USDA lenders strive to match eligible borrowers with properties that qualify for the funds. Since the program began, more than 2.7 million rural borrowers have become proud homeowners.
Mortgage companies who offer these types of loans have a partnership with the USDA, which in turn guarantees the mortgages in case the recipients ever default on their loans. Since the enactment in 2009 of the American Recovery and Reinvestment Act, even more potential borrowers may be eligible for a USDA Rural Housing loan due to the instatement of more flexible guidelines.
Not sure if this type of financing is right for you? Let's examine the pros and cons:
PROS
The loans do not require a down payment or monthly private mortgage insurance payments.
The requirements that applicants must meet in order to qualify are more flexible-compared to other types of home financing programs.
The approved buyers who are matched with eligible properties are not required to pay closing costs or put money into escrow.
The interest rates on these types of 30-year fixed rate loans are typically quite low.
USDA loans may be used to purchase or refinance, as long as the property in question qualifies and serves as the primary residence of the borrower.
As one of the few zero-money down loan outside of the US military, the program is suitable for lower income families and those with less than perfect credit.
If the home is considered a "fixer-upper", the cost of repairs may be included in the loan amount.
There are multi-family properties that are eligible also.
CONS
Borrowers can only buy approved properties that are located in areas designated by the USDA.
The USDA sets income limits for households that may be eligible for these loans and homes. However, full time students who work in addition to school may be exempt from this requirement.
Credit reports are required, which is not really a con, but part of the process that will help a borrower see where their finances actually stand.
The loans are 30-year fixed rate loans, which may represent an overly long commitment for some.
Benefits of Living in a Rural Area:
As you weigh the pros and cons of this type of home purchase, remember that living in the country has its benefits!
The cost of living is usually much lower in less congested suburban and rural areas. A quick check on a cost of living calculator is eye-opening. To compare for yourself, use the link on Sperling's Best Places: http://www.bestplaces.net
Getting back to nature and having the opportunity to become more self-sufficient is a hot trend these days! Homesteading is huge and only becoming more popular: http://en.wikipedia.org/wiki/Homesteading
Crime rates in rural areas are much lower.
Living outside of a traditional suburban neighborhood with its stuffy HOA rules give rural homeowners more opportunities for creativity and freedom of expression.
A home located in a rural setting is more conducive to owning animals.
In terms of privacy, you can't beat living out of the city limits.
Note that additional terms and conditions may apply and are subject to change. Please speak with an eLEND mortgage professional for more information.