10 Things You Might Not Know About VA Loans
June 8, 2015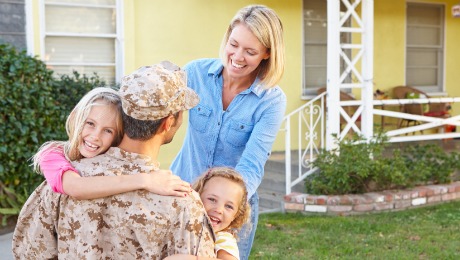 The VA Loan Guaranty Program was established in 1944 as a means to allow returning members of all branches of the U.S. military to realize the dream of home ownership. A Veterans Administration loan is atypical from a traditional loan because the VA promises to repay around 25 percent of every loan it guarantees, in case the borrower defaults. As a result, VA-approved mortgage lenders face less risk when accepting military borrowers. The program also offers very competitive terms and rates for the veterans who qualify. A major benefit of VA loans is that they provide borrowers the opportunity to pursue a home purchase without a down payment. Currently, the USDA Rural Housing program is the only other type of loan with this option.
Here are Ten More Interesting Points About VA Loans:
They are meant for the purchase of primary residences only. In other words, a VA loan is to be used for the home where the borrower will be living. They are not for investment properties, second or vacation homes.
Although a VA loan provides eligible borrowers the option of buying a condo, townhome, modular home or single-family property, it will not cover everything. The main requirement is that the residence must be "move-in" ready, so no fixer-uppers.
Once an applicant has been granted a home loan through the VA, he or she may obtain another such loan as long as the existing one has been paid off. However, depending on the individual circumstances, it may be possible for a borrower to secure another VA loan if they have gone into foreclosure with a previous one.
The Veterans Administration does not administer the funds for these loans. Instead, it reviews and approves lenders who will then be officially designated as VA loan providers. eLEND is proud to be a VA-approved lender. Contact us today for details on our VA mortgage program and receive a free rate quote.
The agency then provides a guaranty on each approved loan. Specifically, the VA promises to repay around 25 percent of every loan it guarantees, in case the borrower defaults. This action gives VA-approved lender a safety net and allows them to offer service members better rates and terms as well.
In light of the unique lifestyle choices and sacrifices that members of the U.S. military are often required to make, VA loans are quite flexible. They may be granted to those who have declared bankruptcy or gone into foreclosure.
Recipients of VA loans do not have to pay for PMI (private mortgage insurance). PMI is typically a monthly expense unless the prospective home buyer can put down a minimum of 20 percent of the loan amount. With a VA loan, borrowers do not have the burden of this extra insurance premium, which hopefully allows them to become more financially secure.
Although there is no down payment and no mortgage insurance, VA loans do have a funding fee. It is normally 2 percent of the loan amount and applies to traditional loans and refinancing loans. Those funding fees are one source of income that supports the VA loan program. The 2 percent is often rolled into the loan amount. The fee may be waived for those borrowers who have service-related disabilities.
Most VA-approved lenders do not allow co-borrowers unless they are a spouse or another veteran.
There are no penalties for prepayments. In fact, VA borrowers may be able to make a set amount for a higher monthly payment that will enable them to keep everything the same with the terms and interest and pay off the home sooner. They can also refinance to a lower rate. Another plus is that with streamlined refinancing, no additional underwriting is required.
Subscribe To Our Newsletter
Sign up with your email address to receive news and updates.