The Pros and Cons of Making a Small Down Payment
June 8, 2015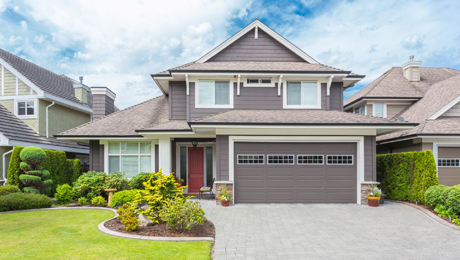 Embarking on the path to buying a home requires aspiring homeowners to complete a series of steps along the way. Some are exciting, like the act of house hunting itself, and some may be a little daunting, such as all of the details involved in a real estate transaction. Perhaps one of the greatest challenges is securing the down payment, which is typically 10-20 percent of the agreed upon selling price.
Considering that the median sales price for a single-family home is currently just around $200,000 that means that the usual down payment would be $40,000. Such a hefty chunk of change is not always so easy to come by. But guess what? There are other ways to manage a down payment and for much less than 20 percent!
FHA loans, VA loans and USDA loans are the most well known programs that give borrowers a hand up. However, as the nation's housing market has gotten back on solid ground, many would-be buyers assume that they must pay the typical 10-20 percent down payment. The reality is that for those who are eligible, it is quite possible to commit to a mortgage with as little as 3.5 percent down. Like any scenario, there are pros and cons to choosing a low down payment option. So when is paying a smaller amount down a good idea?
Pros
For many folks, tying up a large sum for a 20 percent down payment will mean that their savings is temporarily depleted. Going into the venture with a less expensive down payment may be a good way for new home owners to protect their savings.
First-time home buyers who stand to improve their economic status in the next few years, through dual incomes and promotions, could possibly handle the larger monthly mortgage payment that a smaller down payment would require.
Move-up buyers such as young families and empty nesters may enjoy the flexibility that a smaller down payment would offer. It makes for a larger cash reserve or emergency fund for things like a new car, medical bills, vacations and other big-ticket items.
Spreading one's cash around, or diversifying, is a way to provide a safety net should home values drop.
Cons
Opting for a smaller down payment for a home purchase will limit the amount of immediate built-in equity you'll have.
Going the traditional 20 percent down route will usually enable a borrower to obtain a much better interest rate. For those considering a popular 30-year fixed rate loan, those interest charges will be a constant, which is why lower is better.
Biting the bullet and plunking down 20 percent will result in a lower monthly home loan payment. That fact should prevent a borrower from being what's known as "house poor."
Sellers are more likely to favor those potential buyers who have made an offer and put their money where their mouth is in the way of a larger amount down.
In the final analysis, it will all come down to some serious number crunching. The types of loan programs a hopeful homebuyer is eligible for plus their unique, individual situation are all factors that should help them make the best choice. It is always advised to discuss these types of plans with an experienced and professional financial planner or mortgage lender.
Subscribe To Our Newsletter
Sign up with your email address to receive news and updates.