Decorating a Vacation Home on a Budget
June 15, 2015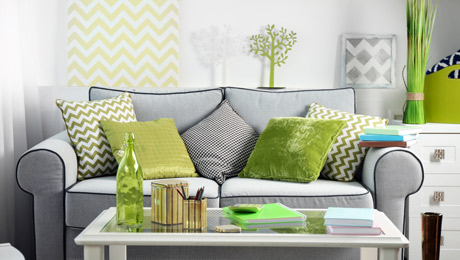 Can you count yourself among those lucky enough to own a vacation home? Almost six percent of American households own a second home that is designated as a vacation home for their own use as opposed to a traditional rental property. If you've been thinking about taking a step in that direction, keep in mind that the prospect will double all of your responsibilities as a homeowner. Along with paying for the place, maintaining two residences means you'll have two utility bills, two yards to maintain, two tax bills, two HVAC systems, more gutters, toilets, and windows to clean…get the picture?
Of course it's worth it! Having a place to escape to, whether it's by the sea, the lake, nestled in the mountains, desert or another special destination, a vacation home offers the promise of restful recreation and total escape from the stresses of our usual lives. When it comes to decorating it, many discover that this is the home where they are finally able to have a little fun and get creative. However, as already mentioned, it will mean two or more of everything-furniture, mattresses, linens, TVs, rugs, flatware, pots, pans…and it adds up in a hurry.
The good news is that furnishing and decorating a vacation home does not have to break the bank.
Make a List
The first thing to do is make a list of everything that you will need…everything! Consider each room of the vacation home and what it will require to be functional and inviting. For this it may be helpful to go room by room in your primary home lest you forget the little things like shower curtains, wastepaper baskets, smoke alarms, area rugs and lamps.
Research Prices
Next, begin shopping online to gauge how much things cost. This exercise should help you establish your budget. Creating a budget is a must, otherwise spending can quickly get out of hand.
Use What You've Got
Review what you may already have stashed in the attic or basement that could work. Shopping around your own home may yield all sorts of prospects that you haven't considered, such as a chair in need of new fabric, a spare headboard, a forgotten set of towels or desk that could become a TV or small appliance stand at the new place.
Used vs New
Decide what could be purchased used and what should be new, such as mattresses and electronics that come with a warranty.
Be a Smart Shopper
Note the vacation home's layout and nail down your paint color choices so you can begin scouting out upholstered pieces, rugs, curtains and so forth. A trip to the furniture store can be an eye-opening experience and all the incentive it takes to become a bargain shopper. Not to imply that all new furniture is over priced, however, you'd better have a hefty wad of cash if you plan to furnish your vacation home with all new stuff! Shop sales, use coupons and online coupon codes when you cyber shop.
Don't Forget Consignment/Second Hand Shops
If you are patient and diligent, you may be surprised to discover what is available in consignment shops and resale venues like craigslist, yard sales, and estate sales. That is why it is so helpful to have a comprehensive list of things you'll need and know your color scheme. A vacation home should have an ambiance that is slightly playful, comfortable and inviting, which is why the little touches like framed art and a few carefully chosen decorative items are extremely important. For a vacation home that is in a popular recreation area, artfully displayed items like vintage skis, tennis racquets, fishing and boating implements or surfboards could make for a unique focal point.
For framed art, be thrifty and resourceful at the same time. Digital photography opens the door for all sorts of things and favorite photos can be enlarged to poster size and even put onto canvas! What about enlarging old photographs and post cards that have historic significance for your property? Do you know any budding artists that would jump at the chance to make a little money and create a few one-of-a-kind pieces for your vacation house? Of course DIY ideas that can help you save money are everywhere and Pinterest is a great place to start!
Have Fun!
The most important things to remember are to have a plan, have a budget and have fun!
Subscribe To Our Newsletter
Sign up with your email address to receive news and updates.