Common Closing Delays
July 9, 2015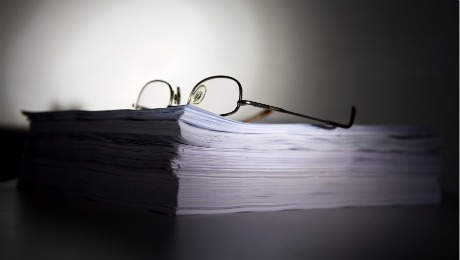 Real estate closings can be daunting, but in most cases they are completed on time and all goes pretty smoothly. In fact, a recent survey of more than 1,500 Realtors revealed that 64% of contracts are settled on time with no delays to closing. However, for the other 36% of Realtors surveyed, at least one delay to settlement or a termination of contract was reported. The good news, for anyone considering buying a home or approaching their own closing period, is that many of these holdups and cancellations can be avoided with some simple planning, communication and proactive work.
In this post, we'll go over some of the most common real estate closing delays and how they can potentially be avoided.
1. Financing Issues
It's best to make sure you have your mortgage plans squared away before you even begin house hunting. Getting approved or pre-approved for a loan can not only help give you more clout as a buyer, it will prevent delays down the line when you're ready to make an offer.
Note that being pre-approved is not the same thing as being pre-qualified! Being pre-approved means you are taking the official steps toward securing financing and the lender has pre-approved you for a certain loan amount after verifying your financial information. Pre-qualification is less involved, can ususally be done at no cost or obligation, and does not include an in-depth analysis of your ability to purchase a home.
2. Home Inspection Problems
This is one type of issue the buyer usually has less control over. The home inspection and financing are closely tied together, and when problems arise with the inspection it can directly affect the financing. For example, let's say a home inspector found structural issues in the basement of the home you're trying to purchase. The cost of the repairs may be around $15,000. The buyer and seller can agree to a resolution, but the lender may not approve it. For instance, the seller may give the buyer a cashier's check for $7,500 and sell the property "as is" with the buyers taking on the responsibility of paying the other half of the repairs. The lender on the other hand, may want the repairs taken care of before the home is sold.
Any number of things can come up with a home inspection, which is why it is one of the most common reasons for delays in closing. If this happens to you, talk to your mortgage officer and real estate agent for advice on how best to proceed.
Note that your lender should never suggest that home inspection issues should be taken care of outside the transaction. This is a major red flag for fraud.
3. Appraisal Issues
Because lender appraisals are based on recently completed transactions of similar homes in the area, the appraisal for a home in an up-and-coming area may be lower than expected. Unfortunately, appraisals are typically based on past sales, not what the future may hold. That means your fixer upper in a neighborhood that's undergoing a revitalization may appraise for lower than what people are actually willing to pay for it. Whenever an appraisal comes in below the seller's asking price, it can complicate things for the buyers because the lenders will generally not want to loan them more than what the appraisal says the home is worth.
Fortunately, there are a few steps that can be taken to avoid this scenario. The bad news however (if you're a buyer who is reading this), is that these steps are in the control of the sellers – not you. Sellers can have their real estate agent be present for the appraisal, and have them provide the appraiser with a list of comps or a market sales analysis. They can also help provide information to the appraiser about the neighborhood that justifies the valuation. This is particularly helpful for appraisers that are coming in from out of town.
Subscribe To Our Newsletter
Sign up with your email address to receive news and updates.