How to Hire a Housekeeper
September 28, 2015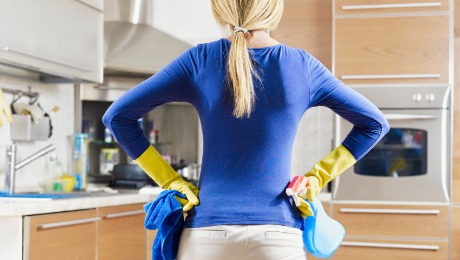 Let's face it, life is busy and getting it all in is often a difficult prospect. In addition to 8-hour work days at places of employment, consider the extra 4.7 hours a day that couples spend taking care of their homes. Women average 2.6 hours a day on housework while men put in around 2.1 hours on such tasks. Those figures come to us from the "American Time Use Survey Summary", published annually from the U.S. Department of Labor. It does not take a mathematician to figure out that that when faced with the responsibilities of full-time work and maintaining a home, there's not much time left over for the fun stuff. When you add kids to the mix, getting it all in often becomes an impossibility.
Hiring a housekeeper or cleaning service is an ideal way to free up time for the things that really matter, such as exercise, leisure activities, and social time with friends and family. Even just the thought of bringing in a little extra help can be a significant stress reducer. But, how does one go about finding and selecting the right person or firm for the job? After all, these folks are going to see your home at what oftentimes may be its worst, including your literal and metaphorical "dirty laundry."
There are two categories of housekeepers-those in business for themselves and those contracted by larger firms. If you don't work with a company and instead hire an individual, they essentially become an independent contractor working for your household. You may need to follow IRS regulations concerning how you need to document what you pay them, as well as labor laws – so be sure to do the research before writing that first check. Many areas have placement agencies that can assist you with this as well as with finding great candidates.
Referrals from friends, neighbors and co-workers are a good place to start your search. Please keep in mind that no matter how wonderful you've been told the individual or firm is, obtain more references and check them! Regardless of which route you take, make sure that the individuals coming into your home are bonded and insured. That way, you may be covered should something get damaged or broken.
The next thing to figure out is how often you'll want the extra help, such as weekly, bi-monthly, as needed, a few times a year for special occasions and so on. Of course, these choices may be directly influenced by the price. Most all housekeepers are happy to provide a free estimate. Before meeting them, prepare a list of questions so that you will understand exactly which services they do and do not offer. Here are some suggested questions:
Do you provide your own cleaning supplies?
What do you use? (this question is important for those who prefer less harmful, more eco-friendly products)
Do you use my vacuum, mop, broom, etc. or your own?
What are the typical tasks that you take care of?
Are you comfortable to clean with my kids around, provided they are not underfoot? However, never ask a housekeeper to step in as a sitter.
If you have pets, discuss the cleaner's comfort level (plenty of folks are terrified of dogs), whether or not they are allergic and if they would do chores such as vacuuming pet bedding or washing Fido's food and water bowls.
Are there jobs they would consider doing and would they charge extra for those? Examples are cleaning the fridge, inside windows and blinds, helping with holiday decorations, tidying up exterior entrances, etc.
Do you have reliable transportation?
Do you charge by the hour or the job?
Would they agree to a trial period?
When you choose a candidate, take them on a walk through of your home. You know where dust gathers and which places are tricky to clean. And…do not assume that the housecleaner will know how to operate any of your appliances that they may be using such as the dishwasher, washer, and dryer. Go the extra mile by showing them and then writing down detailed instructions if necessary.
The bottom line is that you should feel 100 percent comfortable with the firm or individual that you finally select. Otherwise, there will be the extra stress of having someone in your home that you're not happy with, and gee, the idea is to reduce stress!
Subscribe To Our Newsletter
Sign up with your email address to receive news and updates.