How You Can Use Halloween to Market Your Listing
October 12, 2015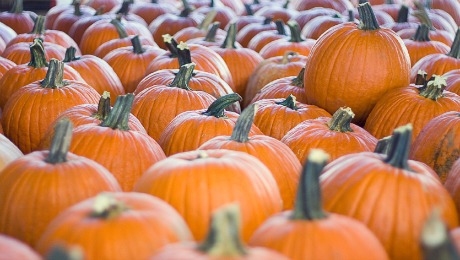 Although spring is typically considered the busiest time for home sales, fall also has its share of real estate activity. Of course gearing up for an autumn listing may not be as simple as it is in say, April or May; however, there are plenty of creative solutions and common sense approaches that can bring out a home's best features.
If spring showers and summer storms have left your home's exterior less than fresh, now is the time to consider pressure washing and if need be-painting. Keep in mind that pressure washing also works wonders for trim work, walkways, stoops and driveways! If the exterior is looking good, check the trim, porch and deck rails for any wood rot, popped paint or mold and mildew. The dryer days during this time of year make it the perfect season for exterior painting and staining.
Painted front doors are certainly nothing new, but if your goal is to move your place in a hurry, perhaps a warm shade of pumpkin or candy corn yellow would be an attention getter. New hardware, pots of fall annuals and a colorful wreath will definitely get the attention of those October house hunters!
Keeping fall's leaves at bay can certainly be a challenge right now, so do your best to stay ahead of the game. Now may be the time to spring for a weekly lawn care crew-if it helps your home sell, it would be worth it.
As for the landscaping: have overgrown trees and shrubs trimmed, redefine beds by weeding and spreading new mulch or straw, remove spent blooms and trim overgrown perennials, change out pots and window boxes with fresh plantings for the fall and winter such as asparagus fern, bulbs, mums ornamental cabbage and pansies.
If you have an outdoor seating area, tie in the season with accessories and fabrics that are associated with autumn. For example, you may want to change out cushions, throw pillows and tablecloths to incorporate a more seasonal palette by using rich reds, golds, deep shades of brown and cheerful yellow. Add natural touches and pops of color with clusters of pumpkins and gourds, Indian corn or perhaps a basket of perfect pine cones or acorns.
Inside the home should reflect the season as well. Do so with textiles and a few carefully chosen fall decorations. Again, a few beautiful pumpkins or gourds or vase of fall blooms are lovely and reflect the season effortlessly.
And now…a few ideas that tie in with Halloween…
Remember that plenty of house hunters peruse neighborhoods and seek out new listings with their entire family in tow. That's why during October, when Halloween decorations are up, a few clever tactics will get everyone's attention.
Instead of the usual flyer box from your real estate agent — you know, the little plastic box that says "Take One" — why not take it to the dark side? How about a flyer box that incorporates a life size witch, ghost or vampire? Make sure to light your helper up at night time with an uplight spotlight.

During the month of October, consider redoing your conventional "For Sale" sign. Here's an idea: change it out to a series of 3 tombstones, each with one word in scary, but easy to read writing — "Home" "For" "Sale." Set them off with uplights as well. For good measure to convey that this is a great house and not just a haunted house, how about placing up a few ghosts playing "ring around the rosies" nearby? If they can be positioned around a tree with tastefully hung twinkle lights, even better! Check this out: https://www.pinterest.com/pin/366691594634151402/


Give your house numbers a little autumnal appeal by stenciling them on pumpkins, like so:

http://www.sunset.com/home/decorating/halloween-food-decorating-ideas/pumpkin-house-numbers
Grab more attention by replacing those pots of mums and pansies with a few pots of witches' brew. Recycle some pool noodles, old shoes, add striped stockings for a sure fire head turner: https://www.pinterest.com/pin/206743439119100313/

On the big night of All Hallows Eve, make small goodie bags for your tricker treaters that include your real estate agent's business card.
Bringing in a touch of whimsy with Halloween decorations can be a delicate balancing act. Remember to keep it simple and tasteful!
Subscribe To Our Newsletter
Sign up with your email address to receive news and updates.