The Pros and Cons of Buying a Foreclosure
October 16, 2015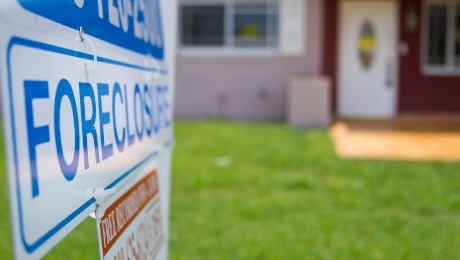 Who doesn't love a bargain? Imagine being able to save thousands, or even tens of thousands of dollars on a home purchase (which is of probably the most expensive item that any of us will usually ever buy) by considering a distressed property. Distressed properties (foreclosures, short sales, etc.) offer cost-conscious home buyers the opportunity to purchase a home that may be well below the current market value. However, distressed properties come with their own set of pros and cons.
After the financial crisis of 2008, the airwaves were full of stories about savvy investors who bought up one foreclosed property after another. Now that the housing market it back on track and thriving in most areas, there aren't as many foreclosures on the market. But that doesn't mean they're gone for good. If you're considering a home purchase in the near future and you want to get the best deal possible, choosing a foreclosure could be a worthwhile endeavor. But before you jump into the foreclosure market, there are a few things to consider.
First of all, keep in mind that all distressed properties are not the same. There are foreclosures, pre-foreclosures, short sales, and auctions. Let's review each one separately to evaluate their pros and cons.
Pre-Foreclosures/Short Sales
When the homeowner is 90 days past due on their mortgage payment and the trustee or lender has initiated foreclosure proceedings.
The homeowner usually has a limited period of time (usually 3 months but can be longer) to get caught up on their payments before the home goes to auction.
The property owners usually have received a notice of default and foreclosure may be described as imminent.
A pre-foreclosure may or may not be a short sale. Short sales are when the lender agrees to let the homeowner sell for less than what they owe and the lender takes a loss. This is usually done to avoid the foreclosure process.
If the homeowner is behind on their payments, but still has equity in the home, it can be sold as a home in pre-foreclosure but would not be considered a short sale if the proceeds would be ample enough to cover the outstanding debt on the property.
A home in pre-foreclosure can sometimes be referred to as a home in foreclosure, making it a bit confusing for home buyers.
The advantages of buying a home in pre-foreclosure/short sale include the following:
The seller may be anxious to sell quickly in order to resolve the matter of being in default and avoid going into full foreclosure. This means they may be willing to accept any reasonable offer on the table.
The buyer can still use traditional financing (mortgage), as opposed to real estate auctions, where buyers must pay cash (see details on auctions below).
The buyer is able to purchase a home at fair market value and avoid the risks generally associated with buying a foreclosure.
The drawbacks to pre-foreclosures/short sales may include the following:
There may be steep competition from other interested buyers and the likelihood of a bidding war could be higher in high-demand markets.
The homeowners may not be very eager to sell the property at steep discount, as they may want to get caught up with their lender AND make a profit.
The homeowners may not be very eager to sell the property at all, and may be in denial about their imminent foreclosure.
These properties are not often readily for sale and may take some extra help from your real estate agent to find.
In the case of a short sale, the process can actually take a long time. If time is of the essence, a short sale may not be the best option.
Auctions
If the borrower who was in pre-foreclosure did not get caught up on their mortgage, the lender or trustee may sell it at an auction.
Homes at auction are sold to the highest bidder.
The pros of buying a home at an auction:
Buyers may be able to buy a home priced well below the market value.
If you're looking to buy a fixer upper to improve and flip, this could be the most cost effective way to make a profit.
The cons of buying a home at an auction:
Often other lenders are present at real estate auctions, which may be intimidating to first-time or inexperienced home buyers.
Buyers must be prepared to pay cash. Financing is not an option.
Some auctions require the winning bidder to pay everything up front. Others may require a percentage of the winning bid, with the balance due in 30 days.
Auctions are the most risky way to purchase real estate, especially for inexperienced buyers.
When you buy a home at auction, you will likely be taking on any liens against the property as well. That means if the homeowners didn't pay their taxes, you'll be responsible for settling the debt.
You don't get to do a walk-through, inspection or appraisal when you buy a home at auction. Do as much research on the property as you can beforehand.
Finding information online may be difficult. You should do a title search to find out about any liens against the property.
The previous residents may still be living in the home, which means you could be responsible for evicting them – which can be a complicated and frustrating process.
Foreclosures (REO properties)
These are bank-owned properties that have gone through the foreclosure process and are now listed back on the market, usually below market value.
These properties generally wind up on the market due to no one buying them at the real estate auction.
The advantages of buying an REO include:
Being able to buy a home at a price somewhat below market value.
Able to use traditional financing (mortgage). You may even be able to qualify for special renovation financing, where you can combine the cost of the home and repairs into one loan.
REOs are usually listed through a real estate agent, so they are easier to find and usually easier to research.
The disadvantages of buying an REO include:
You may not get as big a discount as you think. With fewer foreclosures on the market, the foreclosure discount has been shrinking in recent years.
Many foreclosures have sat neglected for months or even years. Be prepared to do some work if you choose to invest in an REO.
Most foreclosures are sold "as-is," meaning the lender will not make any repairs or upgrades to the home.
When considering a foreclosure, the bottom line is to do your homework! Research the neighborhood and find out everything you possibly can about the property in question. Finally, how closing costs are handled varies from state to state, so it is always advised to discuss such points with a real estate attorney or experienced real estate agent.
Subscribe To Our Newsletter
Sign up with your email address to receive news and updates.