Best U.S. Cities for Enjoying Fall
December 2, 2015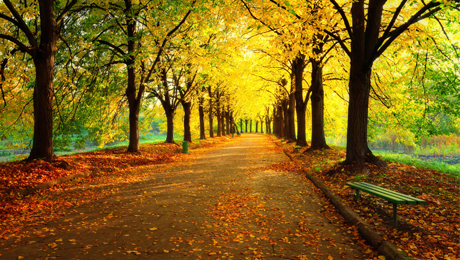 Hey, summer may be over but the fun definitely continues into the fall!
Although the kids are back in school, the temps are getting cooler and the days shorter, the months of fall offer plenty of promise for adventure and relaxation. In fact, some of the best arts, food, and music festivals are held in the autumn. It's also a wonderful time for being outside because the weather is usually neither too hot nor too cold, but just right!
So where would you like to go? Here's a look at a few of our gorgeous country's top destinations for fall…
Napa, CA
Fall is a wonderful time to explore Napa's vineyards and fine dining establishments. The crowds are gone, the weather is perfect and the fall foliage is magnificent! Visitors flock here for the wineries of course, but there's so much more to take in, such as educational programs on cultivating your own grapes, the art of wine and food pairing, grape stomps, fall hiking and trout fishing. There's an abundance of unique accommodations as well, from upscale boutique hotels to charming cottages and romantic bed and breakfasts. Even better, Napa is a short drive from San Francisco and Yosemite National Park.
Leavenworth, WA
Can't make it to Munich for Oktoberfest this year? No worries, they do it up right in the little mountain town of Leavenworth, where you won't even need to sprechen Deutsch! The entire town is modeled after a Bavarian village and is an action packed destination for fall, especially October. Set against the breathtaking backdrop of the Cascade Mountains, the little town, which is home to less than 3,500 residents, hosts Oktoberfest for the first three weekends in October. Visitors enjoy beer gardens, traditional German foods, music, dances and a traditional horse-drawn carriage processional. Other attractions include tours, hikes, bike trips, wine tastings and alpine sports in the winter months.
Burlington, VT
This little city could just be the epitome of a place that does fall right! Vibrant bursts of orange, red and gold foliage from the hilly countryside frames the town and the star of the show, Lake Champlain. Since Burlington is an historic college town, there's plenty to take in thanks to an abundance of live music venues, funky shops and fun places to eat and drink. Fall is also the perfect time to enjoy the Burlington Bike Path, which winds around the lake's shoreline. Of course, Lake Champlain and its parks are hands down some of the most popular gathering spots. There, you are likely to stumble upon vendors offering maple syrup confections, fragrant apple fritters and hot spiced cider. Visitors also love shopping for unique finds at Church Street Marketplace.
Salt Lake City, UT
Outdoorsy types flock to Big or Little Cottonwood canyons as soon as September rolls around. The prices are lower, the weather is great and the crowds have gone. Even better, the fall foliage is spectacular, thanks to the surrounding Wasatch and Oquirrhmountain ranges. Along with hiking, biking, and rock-climbing, SLC also hosts the Utah State Fair in September where visitors take in rodeos, livestock shows, and free concerts. Perhaps the most noteworthy fall event is the nearby community of Snowbird's Annual Oktoberfest. It's been going strong for more than 40 years and attracts more than 60,000 visitors each year.
Hot Springs, AR
Barbecue, blues, jazz, and fall foliage are just the beginning here in "Spa City." Picture perfect weather and a lush backdrop of dazzling color are two more reasons why Hot Springs is the place to be in autumn! The historic city is located in the rugged Ouachita Mountains and is home its famed natural hot springs, which for centuries have been touted for their healing properties. In addition to taking in the sights in the city's historic downtown and Bathhouse Row, another favorite fall destination is Hot Springs National Park. The state motto, "The Natural State," was definitely coined with Hot Springs in mind. If you are after more of an artsy autumn, no worries, that's also when the city hosts two annual festivals: the Hot Springs Arts and Crafts Fair and the Hot Springs Documentary Film Festival. Plan your trip: http://www.hotsprings.org/blog/2015/aug/07/fall-events-around-hot-springs/
Subscribe To Our Newsletter
Sign up with your email address to receive news and updates.