10 Awesome Tech Products for Your Home
January 6, 2016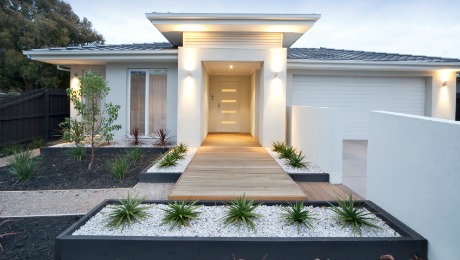 If the latest high-tech item you bought for your home was a Blue-Ray DVD player, then it's definitely time to see what's new in the way of high-tech gadgets for the home. Granted, it's tough to keep up with all of the innovations these days, especially since several high-tech home products are introduced each month. The products from Apple and Microsoft alone are enough to keep us on our toes! Here's a look at ten awesome new home products:
LG Twin Wash
It's a common laundry problem we've all faced before-we need those dark, cold wash clothes and we're fresh out of clean undies that will need to go into a warm, delicate cycle. Not wanting to mix in lights with darks and heavy fabrics with delicates, we're forced to do two loads. Well, thanks to the folks at LG, the wait is over! Their Twin Wash machine has a space for a full-size load and a pull-out drawer underneath for a smaller load that can be washed simultaneously!
MyQ Smart Garage Door Opener
The Chamberlain company has designed a garage door opener that will know when you're in the neighborhood and minutes away from pulling into the driveway. The opener is easy to use, has a dashboard mount and a simple tap allows the user to open or close their garage door from anywhere. The product is the "MyQ" garage door opener and is compatible with most all major brands that were manufactured after 1993.
June Intelligent Oven
Talk about the ideal wedding gift! According to the manufacturer, the June Intelligent Oven is a "computer-based oven that thinks like a chef". It is compact but extremely efficient thanks to several innovative components that allow June to recognize different foods and how to prepare them. Imagine perfectly roasted chicken, delectable baked goods and vegetables that look and taste so good that even the pickiest eaters will be eagerly asking, "What's for dinner?" June fits right on the counter and can bake, toast, broil and steam. There are apps so that the network of June owners can also share tips and recipes online and via smartphone.
Nest Cam
Want to see how Fido and Puff spend their day or if Junior is staying in his crib? The nest Cam is the latest thing in home monitoring systems. At just $199, it is tricked out with some very cool features, including Night Vision, 1080p HD video streaming, activity alerts, a zoom lens, and a 130-degree wide-angle lens for recording ALL of the action. For an additional subscription fee, owners have access to cloud storage and archived footage that they missed.
LG's HomeChat
Now you can finally communicate with your appliances! This device from the folks at LG makes it possible to send texts to your fridge or washing machine. Forgot to run that load of laundry that was soaking? No problem, just text your Smart Washer and those duds will be ready for the dryer when you get home. When paired with a Smart Refrigerator, you can check inside to see if you're low on eggs and milk. Thanks to a built-in camera, HomeChat can see what's on hand for dinner, get menu suggestions and even check expiration dates.
Leak Detector
Hidden leaks are every homeowner's worst nightmare. Undetected, they can lead to rot, mold and stubborn mildew-problems that can cause health issues, affect a home's value and be costly to fix. The WallyHome leak detector uses wireless sensors in leak-prone areas such as bathrooms and kitchens. When even just a drop of water is present, the device sends an alert to the owner's smartphone. WallyHome also monitor's a home's temperature and humidity levels.
Smart Thermostat
The Ecobee3 tackles an age-old problem: how to evenly heat and cool the different areas of a home without wasting energy. Small, wireless sensors are placed throughout the home that can be set individually to heat or cool each room to the desired level. It has a mobile app that works with the thermostat, so that when everyone returns from school or the office, the home is an agreeable temperature.
Sleep Monitor
If you are one of millions of Americans who has trouble getting a goodnight's sleep, then Hello's "Sense" may help you identify the problem. Its patented sleep tracker, known as the "Sleep Pill", attaches to your pillow as you sleep. A thorough sleep study then takes place as the subject's movement, pulse and respiration is tracked using a six-axis accelerometer and a gyroscope. According to its maker, the "Sense" monitor, "contains ambient light, noise, temperature, humidity, proximity, and particulate sensors to analyze just about everything else that has an impact on your quality of sleep." The information is then sent to your mobile devices.
Electronic Art
Many people find computer monitors and large SmartTV screens unaesthetic and just plain ugly. Now, with "Electric Objects" those dull black monoliths can be transformed into ever-changing works of art. The 1080p display allows users to change images and use moving art as well. Technology allows Electric Objects to connect to mobile devices and desktops via Wi-Fi and Bluetooth.
Home Robot
Ok, it may not be the hausfrau that the Jetson family's Rosie was, but the talking robot, "Jibo" is here to help! Jibo is able to record video and photos, respond to voice-controlled requests, plus have conversations with you and your family. It can even check your e-mail, read your child a story and order take-out! With full 360-degree telescoping capabilities, Jibo can turn in any direction and allow you to connect with your family through the web. Future models are set to come with home monitoring abilities.
Subscribe To Our Newsletter
Sign up with your email address to receive news and updates.