Should You Fire Your Real Estate Agent?
February 3, 2016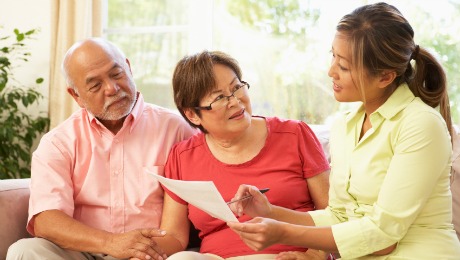 As anyone who has ever purchased a home knows, it is usually a long and tedious process. Before figuring out the right mortgage program, a lot of home buyers begin by reaching out to a real estate agent. In addition to knowing the local housing market inside and out, hopeful home buyers depend on real estate agents to understand their unique combination of needs and desires. Real estate agents are also expected to provide savvy advice, negotiate tirelessly for their clients, and intuitively know when a house is perfect or dead-wrong.
See related post, "What's the difference between a REALTOR® and a Real Estate Agent?"
Sometimes, even if a real estate agent has been handpicked based on their stellar reputation, solid track record, and excellent references, for one reason or another, he or she simply may not be a good match for the clients in question. Perhaps there have been months of aimless house hunting, missed opportunities, and misunderstandings about what the clients are really after. Based on the personal nature of a home purchase and the time already invested, most folks find it extremely difficult to cut ties with a real estate agent, even though it feels like they're on the road to nowhere. Here are a few common issues that develop between prospective buyers and real estate agents, and how to handle them. If one or more of these types of problems can not be resolved, then the client should look for a new real estate agent as soon as possible!
Communication – Be clear about what type of home you want and can afford. Prior to enlisting the help of a realtor, clip out some magazine pictures and make detailed lists of which features and home styles are must-haves. That way, you'll be able to share your preferences about convenience factors, school districts, and so on. It is very important to provide your real estate agent with all the nitty-gritty details, even the financial ones, otherwise, everyone's time will be wasted. Another point that should be established is how and how often the agent and client will be in touch. In an active home search, Joseph Rand, who is the managing partner of Better Homes and Gardens Real Estate Rand Realty in Westchester County, New York, suggests: "There should be a set time to talk every week, whether there is anything to update or not." Of course, this could be via of text, e-mail, a phone chat, or in person.
Feedback – Since the real estate agent is the pro when it comes to these matters, it is vital that they provide the clients with their thoughts on important factors such as how showings went, how listings compare to comparable properties, and what the proper course of action or strategy should be. Agents that fail to take a pro-active stance can make the process of shopping for a home an endless and exhausting one. By the same token, the client must also offer feedback so that the agent will understand if they are on the right track or not.
Availability – Aside from punctuality, accessibility is a must. Of course, everyone has different schedules. However, when it becomes obvious that the two of you simply can not merge your schedules often enough to view property together and make the process work, it may be time to find another agent. Being available to show property in a particular geographic area is another consideration. If you find yourself drawn to neighborhoods that your chosen agent is unfamiliar or uncomfortable with, maybe because they are outside of the agent's drive-time comfort zone, look for one someone who is more flexible!
Open-mindedness – Trust is a very important component. After it has been established, the prospective home buyer and real estate agent will hopefully have the confidence in one another to act on intuition and impulse. For example, after looking at numerous homes, the agent may have identified a common thread that either sparks the client's interest or extinguishes it. Therefore, the client should be open-minded when the agent wants to show them a place or two that they may be reluctant to see.
Excellent Listening Skills – Good real estate agents must be able to comprehend what their clients want. When properties miss the mark, they should understand why. Should you get the feeling that your agent just doesn't "get" you or is pushing you towards things that are out of your price range, find a new one!
The relationship is indeed one full of multi-faceted dynamics. When in doubt, don't continue working with someone who wastes your time.
To learn more about the financing options available to you, check out eLEND's available mortgage programs, or call 1-800-634-8616 to speak with a licensed Mortgage Loan Originator.
Subscribe To Our Newsletter
Sign up with your email address to receive news and updates.