Why Buy a House in New Jersey
October 25, 2016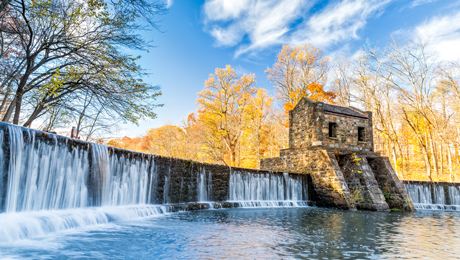 New Jersey is a terrific place to live, work, and play. If you're giving some serious thought to relocating to the Garden State, we've got a few enticing details that may provide the extra nudge you need! Take a look at some of the best reasons to buy a home in New Jersey, then when you're ready, reach out to us for free information on New Jersey home financing opportunities.
Home Values
Like the rest of the nation, the housing market in New Jersey has had its share of ups and downs. Now, home values are on the rise again and this time, growth is looking more sustainable than ever. According to Zillow.com, the estimated home value index for New Jersey is $292,500 – that's 2.7% higher than Zillow's 2015 estimate and the real estate site predicts New Jersey homes to increase another 1.2% in value within the next year.
Furthermore, with the median rent at a whopping $1,900, owning a home can be more affordable than renting in much of New Jersey. Zillow reports that the median listing price of a New Jersey home is $299,000. With a 30 year conventional mortgage, 20% down payment and a fixed interest rate of 3.75%, the monthly principal and interest mortgage payment on a home at the median price would be around $1,108. That's nearly $800 less per month than the median rent! After one year, that's a savings of over $9,500!
Recreational Amenities Galore
Life in the Garden State can be lots of fun, thanks to New Jersey's wide variety of recreational activities. From relaxing beach side to hiking through the forest and much more, New Jersey is a one-stop recreation shop.
Healthy Living
New Jerseyans are among the least obese states in the U.S. – despite the abundance of delicious food – and also consume less tobacco than most of the country. Not only that, but New Jersey ranked 3rd in highest life expectancy rate (nearby Connecticut and Massachusetts earned the number 1 and 2 spots, respectively).
The Food (especially the pizza)
It's a good thing New Jersey residents are healthy and active, because with the huge amount of tempting cuisine in the state, it's would be very easy to overindulge! Just about every New Jersey street corner has a pizza place – and not the typical chain pizza delivery joints; we're talking true Jersey pies that put ordinary pizza to shame. Pete and Elda's in Neptune City was named Best Pizza on the Jersey Shore by local press, while Vesta Wood Fired Pizza & Bar in East Rutherford is the latest to claim the top rank statewide on NJ.com's list of N.J.'s 25 Best Pizzerias.
In addition to Jersey's famous wood-fired pizzas, the state also boasts a ton of other mouth-watering morsels, including locally grown produce. New Jersey is among the nation's leading growers for blueberries, bell peppers, cranberries, spinach, and asparagus – hey, it's called the Garden State for a reason!
Great Schools
Did you know that New Jersey's public school system consistently ranks among the best in the country? It's true. New Jersey has five of the country's 100 best high schools, according to a recent ranking from U.S. News and World Report.
In addition, New Jersey's own Princeton University was named the 4th best private college in the US by Business Insider, citing the school's average SAT score of 2250 and the median starting salary for graduates at $60,000.
Have we convinced you yet? If so, please don't hesitate to contact our team of mortgage professionals to get free information on New Jersey home financing. We can review your needs and budget and help you compare different loan programs to find one that suits you the best. Call us today at 800-634-8616.
Subscribe To Our Newsletter
Sign up with your email address to receive news and updates.