Celebrate The Big Game, The Right Way
February 2, 2017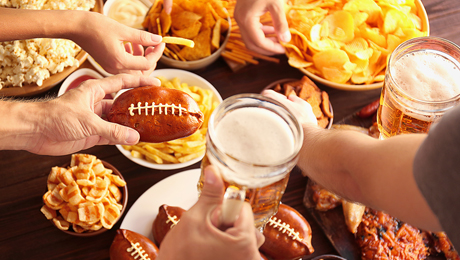 After all your hard work and saving up, you have finally landed your dream home. What better way to break it in than hosting the ultimate football bash with your family and friends. As a first time owner, or even for the seasoned homeowner, there are a few entertaining tips and tricks to keep in mind to make sure you're not relying on a Hail Mary when things go wrong:
Set the Mood
The day before the big event, start to get organized and tidy up around the house. Remember, this is your dream home and you want to make everyone fall in love with it just like you did when you first laid eyes on it. Create a fun and exciting atmosphere with football themed decorations of your favorite team! Set up a wet bar for guests to help themselves to their favorite refreshments throughout the game without having to miss any of the action.
Get Creative
One of the most important aspects of a themed party is the menu. Traditional items such as wings, chips & dip are a must have, but why not get creative with your menu this year?! We recommend football-themed recipes such as Crescent Pizza Pockets and Football Deviled Eggs. For dessert, try out some festive ideas like Chocolate Covered Strawberry Footballs or Frozen Footballs. How about red and blue cocktails for the Falcons and Patriots?
Make Comfort a Priority
In addition to great food, drinks and décor it is extremely important that every guest feels welcome as you invite them into your home. For those who haven't been to your home yet, give them a personal tour – this is your chance to show off what you've got! Show them around and let them know where they can find everything they need (i.e. the bathroom, kitchen, drinks and food). As more guests arrive make sure to mingle with everyone, but also make sure to introduce guests who haven't met each other yet.
Most importantly – ENJOY it! Whether this is your first get-together at your home with family and friends or your hundredth shindig, enjoy every minute with those closest to you in a place that you can call yours.
Photography by [Africa Studio] © shutterstock.com
Subscribe To Our Newsletter
Sign up with your email address to receive news and updates.