Happy Mother's Day to All of the Moms To Be! It's Time to Plan Your First Nursery: Tips for Every Mom and Dad To Be
May 12, 2017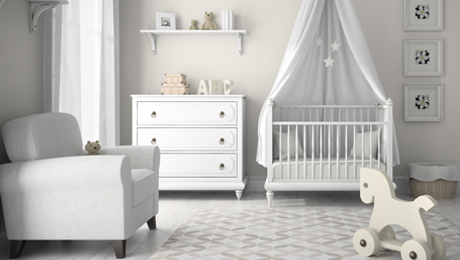 Congratulations! All of the excitement of bringing a baby into the world is taking over.. and so is everything that you need to do to prepare. When it comes to designing and decorating your first nursery it's important to think about colors, themes, practicality and much more. To help you get started, we have put a list of some tips that we have learned along the way that just might help you out:
Location: Before you even get started on thinking of color schemes or themes, it's important to think of the nursery's location if you have a few rooms to choose from. Once the baby arrives, there's no doubt in our minds that you are going to want to keep the newest addition to the family as close as possible. Opt for a room that is close by your own so you are never more than just a few steps away – especially when it comes to those late night wakeup calls.
Keep it Gender Neutral: Instead of going with the typical pink or blue, try a more neutral color when picking the wall colors. If you still want to add in a touch of color, you can always do so by incorporating color through accessories and decorations like pictures, blankets or toys. We're loving Kendra Wilkinson-Baskett's gender neutral nursery for example in which she chose to incorporate bright colors through the curtains and rugs.
Convertible Furniture: When selecting a crib or other pieces of furniture look for pieces that can eventually convert into bigger pieces as your little one grows up. For example, keep an eye out for a crib that can eventually be turned into a full size bed once your little one has grown out of the crib. This will eliminate having to find matching pieces of furniture in the future.
Keep Things Simple: Although you may find a million things you love and feel like you have to have, try to keep things simple when it comes to your nursery. Don't get so much that the room will feel cluttered. This should be a calm, relaxing place for you and the baby.
Most importantly, start planning early! As your due date gets closer, the last thing you are going to want to worry about is assembling a crib or picking out a wall color. The earlier you start the better! Once you've completed your dream nursery, you can sit back, relax (as much as you can) and wait for that beautiful bundle of joy to arrive.
Photography by [Koksharov Dmitry] © shutterstock.com
Subscribe To Our Newsletter
Sign up with your email address to receive news and updates.