Have You Considered a Manufactured Home?
May 19, 2017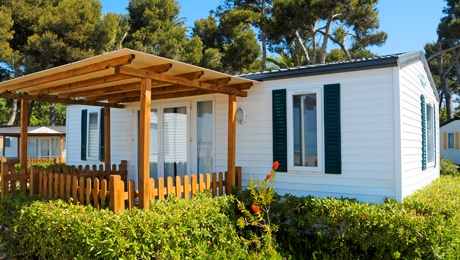 Many home buyers assume that they will purchase a stick built home whether it's a detached property, townhouse, or condo unit. They may not even think of a manufactured home as an option, or just figure it's not for them.
You may be surprised to learn that mobile homes can be a great fit in a wide variety of scenarios.
First, it's important to understand that manufactured homes are not all the same. There are some creative and innovating manufactures doing some incredible things with factory built homes. They can make use of interesting materials, have a great use of space and feel much larger than their small footprint would suggest, and be much kinder to the environment than their stick built counterparts.
Here are a few situations where a mobile home could be an excellent option to consider:
The Perfect Lot
Land is a finite resource. Some potential buyers spend years searching for a buildable lot in the right area with the features they desire. That might mean proximity to a specific school or workplace, a walkable neighborhood, or stunning view. What if the ideal lot comes on the market but building a dream home is still out of reach financially?
Some homeowners will stretch their budget to purchase the lot, making mortgage payments on both their primary residence and the new lot for a while, often experiencing the stressful situation when the lot loan comes due before they are ready to build.
A mobile home could be a great alternative. By purchasing a less costly manufactured home to live in on the new lot until it's possible to build, finances are kept in check and the homeowners get to live in the dream location much sooner than anticipated.
Home Away From Home
Would you love to have a place of your own in your favorite vacation destination? Maybe that's the beach, the lake, the mountains, or closer to family you wish you could spend more time with. An affordable manufactured home could be the way to make it happen.
Many vacation hotspots have popular communities with many mobile homes. These properties often require less maintenance when compared to a stick built home, meaning you can enjoy your time there, rather than devoting a large portion of each visit to working on the house.
Wide Open Spaces
Do you love the idea of owning a home on your own lot but a condo is a better fit for your budget? It may be possible to find a manufactured home on a small piece of land for a comparable cost – particularly when you factor in the monthly condo fees that come with most units.
Consider these benefits of having your own land:
Privacy

Peace and Quiet

Room to plant a garden

Space to entertain outdoors

Cook outside with a grill or smoker

More room for children and pets to play
At eLEND we are proud to offer excellent manufactured home financing options and to be a leading provider of mobile home lending. Here are a few highlights of our manufactured home mortgage program:
Low down payment.

Low rates and fees.

Must be at least 400 square feet in size.

Mortgage must cover both the home and the lot or land.

Must be located on a permanent foundation, and not within a flood zone.
Learn more: https://www.elend.com/buy-a-home/mobile-home/
Photography by [nito] © shutterstock.com
Subscribe To Our Newsletter
Sign up with your email address to receive news and updates.