How to Have the Best Lawn in the Neighborhood
May 25, 2017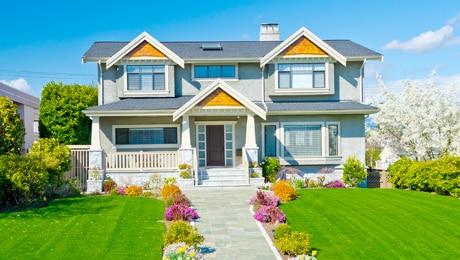 Not all of us are born with a green thumb, and not all of us necessarily like spending time gardening out in the yard, but we have to admit there's a great satisfying feeling when you have one of the best front lawns on the block. To help give you a little nudge to whipping your front lawn into shape, we have put together a quick checklist to put you in the running for best lawn of the month.
Check the Weeds: The last thing you want to see in your yard even if you aren't big into gardening are weeds. So, start by getting those things out of there! Pick a weed killer to get rid of all of those pesky weeds, which won't have any effect on the grass itself.
Clean & Repair: Unfortunately, although you may have had a beautiful bright green lawn last summer, the cold winter months most likely turned your lawn a little dingy. Some areas may even be a bit more raised than the rest while there may be some holes in other areas. You'll want to start with a clean slate this year, so get to digging to create an even playing field throughout your yard and make sure it's getting plenty of water so it looks nice and healthy.
Pick the Right Equipment: One of the most important parts of maintaining the perfect lawn is having the right equipment to do so. When looking for tools, such as a lawn mower for example, take your time to make sure you are picking out the best one for your lawn. Each lawn mower has different types of blades giving you a different cut for each lawn.
Fertilize: We can't stress this enough! Fertilize everything from your lawn to your soil. This will help ensure that your grass and plants are getting the right nutrients to keep growing nice and strong along with getting enough water.
So, what are you waiting for? Get out there and getting working on that yard! The earlier you start the better so that you are sure to have the best yard on the block all summer long. Happy gardening!
Photography by [romakoma] © shutterstock.com
Subscribe To Our Newsletter
Sign up with your email address to receive news and updates.