Quick & Easy Bathroom Renovation on a Budget
June 8, 2017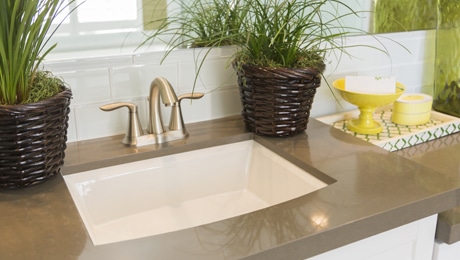 According to HomeAdvisor, most homeowners spend somewhere between $5,558 to $13,181 on a bathroom renovation, but this cost can go all the way up to $21,116 depending on what you're looking to do. If this doesn't seem like something that fits in your budget, but you're still dying to redo that older bathroom to match the rest of your dream home, don't worry – it's still possible! Below are some easy renovation ideas that won't wipe out your bank account.
Try to Cut Down on Tile: If you really love to have tile in your bathroom try to limit the amount of tile you use. Instead of doing a full wall, try doing a border to help save money. If this is something you really don't want to compromise on, try looking into options like Smart Tiles that are basically sheets of fake tiles that stick right to your wall – it sounds crazy, but trust us and it's a fraction of the cost of real tiles! All you have to do is cut the tile to size and apply. They even offer an option to renovate a room on their site to find the perfect style just for you.
Update Your Fixtures: Sometimes all you need to create a fresh look is to just swap out your older fixtures with some new ones. Instead of a plain light fixture, swap it out for a nice chandelier to add some luxury. You can even swap out your cabinet handles with some sleek new handles to give the cabinets a fresh look. The small details definitely count!
Pick a New Color: If you're tired of looking at those pink, yellow or whatever color walls you currently have, try opting for a more neutral, soothing color like a light gray. Not only will this give your bathroom a new look, but it could also make it feel a bit larger as well making it feel more open and inviting.
DIY Anyone?: For those who like to craft, sometimes going with the DIY route is the most fun! You can get as creative as you want. For example, instead of purchasing a brand new tub (which can be crazy expensive!) use what you already have. You can create a new look by attaching a beautiful stone or some wood paneling like they did with this tub and voila – you have a "brand new" tub at half the cost.
Whether you decide to start off slow and just update some fixtures or you want to go all in and revamp the whole bathroom, you don't have to have a crazy budget to create something beautiful. Just get creative and have fun while doing it.
Photography by [Andy Dean Photography] © shutterstock.com
Subscribe To Our Newsletter
Sign up with your email address to receive news and updates.