How To Make Sure Your Mortgage Company Isn't Ripping You Off
June 19, 2017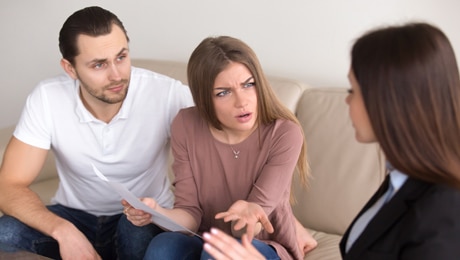 It can be nerve wracking to put your trust in someone you don't know when it comes to a large financial decision such as buying and financing a new home. You tend to get to know your real estate agent well over the course of house hunting, making and negotiating an offer, and navigating the purchase process. You will likely get a good feel for whether he or she is knowledgeable and has your best interest at heart.
When it comes time to apply for a mortgage the time table is often condensed and financing can be arranged in a few short meetings or phone calls. How do you know whether this is someone you can trust? How do you know that you are getting a good deal on your home loan and that you aren't paying more than you need to? Here are a few tips that can help you learn about the mortgage professionals you are considering working with and make it more likely you are singing their praises following closing.
Get pre-approved for a mortgage.
This will help you define the price range of homes you should be considering, make your offer stronger when you find the house you'd like to buy, and let you start learning about the mortgage process (particularly helpful if this is your first real estate purchase.) In addition, working through this step will allow you get to know your mortgage representative. You'll see how responsive they are, and how easy they are to work with.
Compare several loan estimates.
Don't just assume that the first lender or broker you talk to has the best pricing available. Even if your real estate agent has recommended someone it doesn't mean their rates are necessarily the most competitive. Request a loan estimate from several different companies and compare the pricing. Because all mortgage professionals are required to use the same forms it's easy to see how they stack up. The "Compare My Rate" tool from eLEND removes the guesswork. Simply upload a Loan Estimate (or take a photo using your mobile device) and see a comparison based on the cost of the loan over five years, the principal paid over five years, the annual percentage rate, total interest percentage, and total loan costs.
Be thorough when providing information.
Many of the surprises and frustrations that occur during the mortgage process often come about when there is a miscommunication or some piece of information missing that impacts the transaction. While your mortgage representative should ask thorough questions so that he or she can provide an accurate estimate, be sure that all the information you are providing is accurate. If you aren't sure about a particular item just say so – it's better to wait while gathering all the details needed than to receive incorrect pricing and be disappointed down the road. For example be sure your mortgage professional knows how you intend to use the home (as a primary residence, vacation home, or investment property,) whether you plan to change jobs in the near future, whether you are self-employed, and if you intend to take on any new liabilities before the closing of your loan.
Clear communication and some up-front research can help ensure you work with a mortgage lender or broker you feel good about.
Photography by [fizkes] © shutterstock.com
Subscribe To Our Newsletter
Sign up with your email address to receive news and updates.