Getting Your Porch into Shape for Summer
July 7, 2017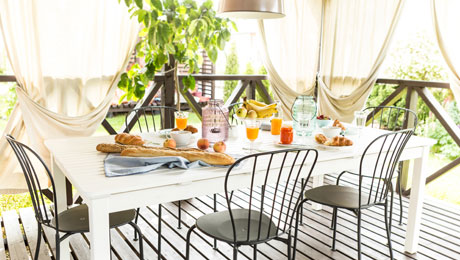 The summer is officially upon us, which means a lot more time spent outside enjoy those beautiful sunny days and warm summer nights. Even though we are reaching July, it doesn't mean you can't whip your summer porch into shape to entertain family and friends. Below are some of our favorite renovating hacks that will get your porch looking brand new just in time for summer entertaining.
Light & Airy: One really quick fix to sprucing up your porch is switching up the paint. Choose a light gray or white to make the porch more inviting. Not only will it feel more open, but it will also feel bigger due to the light colors.
Bring in Nature: Another great, easy way to decorate your porch is bringing in some flowers from your garden. Put them in some beautiful vases throughout your porch to add a pop of color.
Get Creative: When it comes to the porch, you can get as creative and funky as you want. Why not stray from the norm and pick some fun color cushions, pillows or area rug. You can also get creative with the furniture you pick for the porch. Check out some garage sales around town or even go through your basement – you may have the perfect item that you forgot you even had!
So, what are you waiting for? Get to work on your summer porch and make it the perfect escape for summer entertaining.
Photography by [Pinkyone] © shutterstock.com
Subscribe To Our Newsletter
Sign up with your email address to receive news and updates.