Make the Most out of Your Laundry Room
July 28, 2017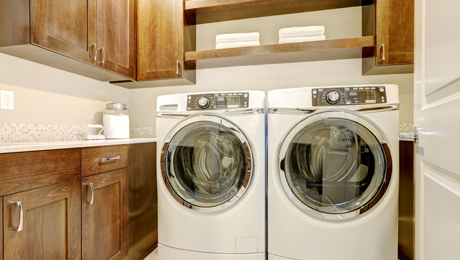 We can all admit doing laundry may be one of the least favorite things anyone wants to do. Even so, there's no way of getting around it, so why not spruce up your laundry room a bit and make the process more enjoyable. By making your laundry room into a more inviting space and even an area that you can get some other things done, hopefully you won't dread doing laundry as much. Below are some tips and tricks into creating the perfect laundry room that you just might never want to leave:
Functionality: What would you like the space to look like? For example, do you want it to solely function as a laundry room, or do you also want to convert it into a crafting, sewing or storage area? When it comes to remodeling, you can organize the layout so you get the most out of your room.
How do You Like to do Laundry: If you like separating your clothes into several different piles, ironing everything or folding your laundry right away, take this into consideration when you are renovating the room. Set up a space where you are able to fold all of your laundry or add built in hampers to separate your clothes while still keeping the room tidy.
Spice it Up: Just because it's a laundry room doesn't mean it has to be boring – add a nice backsplash and your favorite countertop to really make the room pop. If you have a smaller budget, some paint and beautiful décor can spruce things up to make the room more appealing.
Keep these tips in mind during your renovations and your transformation will go smoothly.
Photography by [Artazum] © shutterstock.com
Subscribe To Our Newsletter
Sign up with your email address to receive news and updates.