Turn Your Family Room in to an Oasis for Everyone to Enjoy
August 25, 2017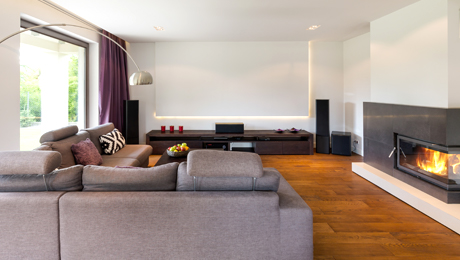 Besides the kitchen, another central room where everyone gathers is the family room. Here is where movie nights, gatherings and binge watching usually take place, so why not give it some extra attention. If you're thinking of renovating your family room in the near future, consider these options:
Add a Fireplace: A great way to add some warmth to your family room is a beautiful fireplace. Whether you choose to go natural or with gas, this will always come in handy, especially during the winter months.
Bring in Some Natural Light: When it comes to adding light in a room, natural light is always the best way to go. If you feel like your family room is a bit dark, add some beautiful large windows or even skylights. Imagine the whole family lounging around on a cold winter morning and watching the snowfall with some hot cocoa!
Snuggle Worthy Furniture: When it comes to picking out the furniture, make sure you take time and pay attention to how comfortable it is. Another thing to keep in mind is the color of the furniture that you choose. Since you'll be spending a lot of time in the family room, you should try to stay away from very light colors, such as white, to help avoid any stains.
Pick Neutral Colors: If you decide to repaint, stick with some neutral colors, such as gray. This will help give the room a calm vibe and also allows you to have some fun when it comes to picking out the décor for the room.
Splurge on the Entertainment: One thing you definitely are going to want to spend some extra cash on when it comes to the family room is updating the entertainment system you have. If you haven't purchased a new television or surround sound system in years, it might be time to step up your game this time around.
So, if you are considering renovating your family room, what would be your must have item?
Photography by [Photographee.eu] © shutterstock.com
Subscribe To Our Newsletter
Sign up with your email address to receive news and updates.