Transform that Spare Room into Your Dream Closet
September 1, 2017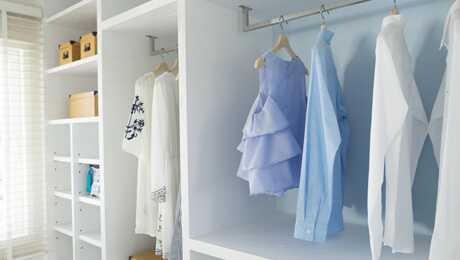 It's no secret that we all have way too many clothing items and accessories, leaving our closets and dressers a mess – especially after tearing through your wardrobe to find that perfect outfit. So, instead of continuing to cram everything into your tiny closet in your room, why not turn that spare room that has become the "junk room" into the closet of your dreams. Below are some must-have items to completely transform your spare room:
Custom Storage – The most important aspect of any closet is your storage space. Do some research on local interior designers that have done work in the area and have them come up with a sketch of your new space that includes some custom storage that will fit all of your specific needs.
Perfect Lighting – Another important aspect of any closet is having the right lighting. Consider having a focal point of the room such as a stunning chandelier that will add some beautiful lighting to the room. You should also consider having some lighting within your storage space that will illuminate your clothes, shoes and accessories from the inside making it easy to see everything.
Modern Flooring – If your spare room has some outdated carpet, consider replacing the floor with hardwood floor, or if you really want to get fancy some marble. This will help create the perfect, modern atmosphere within your new closet.
Accessorize – One you have the design and layout set up, start looking into must-have accessories that will add some character to the room and show off your personality. Consider items like a floor length mirror and pictures.
Cozy, Chic Seating – Trying on so many different outfits can get exhausting, so why not add in some chic seating to take a little break. You can always find some cute chairs or a love seat sofa that could fit perfectly into your new space.
Instead of wasting space in the spare bedroom, get a move on and turn that room into the perfect closet!
Click here to learn more about eLEND's Renovation Loans.
Photography by [ben bryant] © shutterstock.com
Subscribe To Our Newsletter
Sign up with your email address to receive news and updates.