How to Turn Your Home Office into the Office of Your Dreams
September 15, 2017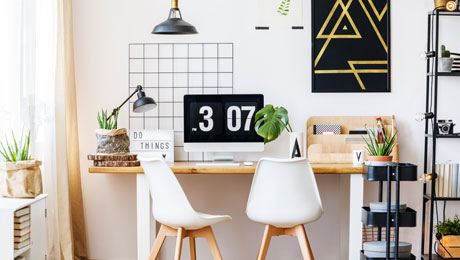 Whether you have the chance to work from home a few days a week, or need a space to get some extra work done, having the perfect home office is a must. Typically, we focus on items such as a desk, chair, lighting and a computer to get things done. Why not make this room a place you can actually enjoy. Just like any other room in the house add in some décor to show off your personal style that will also help avoid making your home office feel too bland. So, if you're thinking of renovating your home office in the near future keep these ideas in mind:
Lighting – Of course we can't get any work done if we don't have the right lighting in the room. Consider putting in some recessed lighting or if you want to give the room a bit of a flare, why not think about adding in an awesome chandelier.
Bring in Nature – If your home office doesn't have any natural light, think about adding in a window. Not only will this brighten up the room, but if you are feeling stressed or need a bit of a break, you can just look right outside and enjoy the beautiful view.
Simple, Chic Décor – No one wants their office space to be boring, so why not spice things up with some decorating. This allows you to bring in your style and turn the room into a space where you might actually want to spend some time. From wall décor to a fancy desk or seating, there are endless opportunities to show off your style in this room.
Tranquility – Even though you want to add some nice decorations throughout your home office, you also want to make sure to keep things neutral and calm. Having a room that feels too busy could ultimately affect your productivity and make you feel more stressed out.
So, just because our home office is a place where we go to get our work done, which is not so fun, it doesn't mean the room has to be boring! Be sure to keep these ideas in mind when it comes to doing your next office makeover.
Photography by [Photographee.eu] © shutterstock.com
Subscribe To Our Newsletter
Sign up with your email address to receive news and updates.