Give Your Basement a Makeover This Fall
September 22, 2017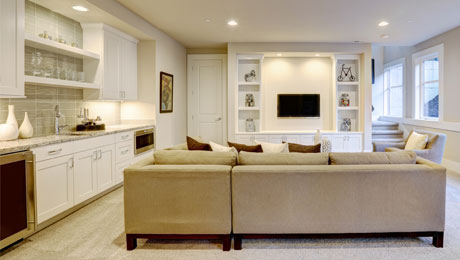 Now that summer is officially over and the cooler weather begins to settle in, the family is going to want to spend a little more time inside. Instead of overcrowding the kitchen or the family room – especially during Football Sundays – why not consider renovating the basement and turn it into a relaxing, yet fun environment that everyone can enjoy. When it comes to creating the picture perfect basement the below items are some must haves:
At Home Bar – If you're going to consider redoing your basement, why not add a bar down if there's enough room. This will not only add to your basement, but it will also turn it into a great entertaining area that guests will enjoy during all of those upcoming holiday parties.
Lots of Seating – Once this room is all done and put together, everyone is going to want to spend more time down there. Whether its to watch your favorite weekly show or you decide to host a movie night, make sure that there is plenty of comfortable seating for everyone to sit back and relax.
Great Entertainment – Of course another vital aspect to consider when it comes to remodeling the basement is the entertainment system. Check out your options and look into items such as large Smart TVs and a sound bar that will make it the perfect hangout spot. This would make it a great oasis for all of those football fans – or a great escape for you from all that screaming that may or may not go on when their favorite team is on.
Lighting – You are going to want to consider the perfect lighting to add in to your basement for every occasion. For example, during holiday parties you may want some brighter, festive lighting but during a nice, quiet movie night you're going to want something a bit darker to set the mood.
Activities – In addition to a great entertainment system, you may also want to consider adding in some fun games such as a pool table, card game area or even a ping pong table. These games are great for kids, and also a great way for you to let your inner child out and have some fun.
Not only will renovating your basement create an awesome additional living area, but it will also add some value into your home if you ever decide to move. So even if you already have a great living room to enjoy, why not consider vamping up your basement this season?
Photography by [Artazum] © shutterstock.com
Subscribe To Our Newsletter
Sign up with your email address to receive news and updates.