How Modern Technology Has Increased Home Security
September 29, 2017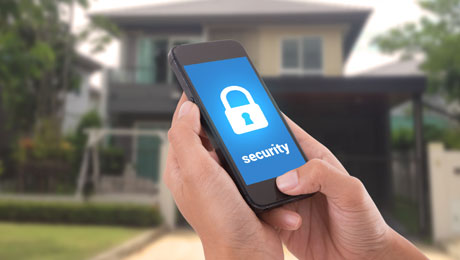 According to a recent study conducted by Better Homes and Gardens Real Estate, 48 percent of American adults, ages 18-35, rank a security system high on their list of most wanted smart home features. Criminals may be getting more crafty, but so is the tech industry's resolve to keep them out. Thanks to technological advances in home and property security efforts, those criminals are having a tougher time breaking into homes and workplaces.
Access Control Systems
Access control systems can authorize and prohibit entry to certain individuals at certain times of the day. These controls can use login information, PIN numbers, biometric scans (which you'll learn more about under Fingerprint Scanners), as well as physical or electronic keys.
Automatic Gate Access
An automatic security gate system can protect property from intruders and give homeowners added peace of mind. Most systems can be operated remotely from inside of your vehicle with a key fob, or with a security code. Some systems even offer vehicle recognition. Added features include telephone entry systems so homeowners can speak with guests at the gate.
Cameras
The video quality of security cameras has greatly improved in recent years, so criminals are much more easily identifiable. Not only does the video footage let you see anything that may have happened on your property or in your house, mounted cameras, when visible, also act as a deterrent to criminals. Most cameras are motion activated, recording footage when motion triggers them without running all day. Because smart cameras use Wi-Fi connections, you can stream live feeds.
Fingerprint Scanners
Fingerprint recognition technology is more than cool, it's the latest in home security protection and the great way to protect your possessions from criminals who are master lock pickers. Using biometric technology, homeowners can unlock doors and safes using a smart phone.
Garage Systems
Since criminals often use garage doors as their entry point, smart technology can now control and monitor garage doors remotely using a smart phone app and a network device. These systems alert homeowners if their garage door is open, and allows them to automatically open or close their garage doors.
Remote Home Security System Monitoring
When homeowners are away, remote home monitoring systems let them manage and control alarms, video, door and window locks, cameras, and even lights and thermostats from a smartphone, iPad, or other web-enabled computer. In addition to security, remote monitoring systems let you control room temperature, lights, freezing pipes, smoke and carbon monoxide levels.
Wireless Security Alarm Systems
Once bound only to a landline, home security systems can now be connected to mobile phones and broadband internet connections. These systems monitor specific access points in the house like windows and doors, and when those points are breeched, an alarm sounds and alerts a monitoring center, who contacts the police or fire department. Improved technology makes security alarm systems difficult for criminals to elude.
Photography by [This Is Me] © shutterstock.com
Subscribe To Our Newsletter
Sign up with your email address to receive news and updates.