Top Markets Where Renters Can Afford to Buy
October 9, 2017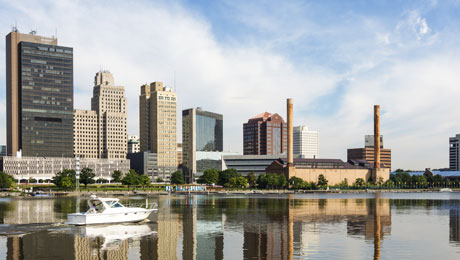 As the cost of rent rises across the nation, the National Association of Realtors has been working to identify markets where renters can likely afford to become homeowners. The NAR recently completed the task this summer, with the release of a list of the country's top markets with the highest share of renters who can afford to purchase a home.
To qualify as one of the NAR's top markets, each location had to have adequate employment growth, household income and income levels. NAR reviewed this data in nearly 100 of the largest metropolitan statistical areas across the U.S. to determine which markets with employment gains above the recent national average also have the largest share of renters who can currently afford to buy a home. Of the top 10 metros with the highest share of renters who earn enough income to buy a home, nine were either in the South or Midwest – with three of those cities in Ohio.
Chief Economist for NAR, Lawrence Yun, commented on what he believes to be a significant increase in renter households – comprised of both young adults and those who have lost their homes – since the Great Recession, and particularly in metro areas that have seen strong job growth and an influx of new residents as a result of that growth.
"Even in a time of expanding home sales, steady job growth and historically low mortgage rates, the homeownership rate recently tumbled to its lowest level in over five decades as many renters struggle to juggle escalating rents without commensurate income gains," said Yun in an August 4 NAR press release. "However, this new study reveals that there are several affordable, middle-tier markets with solid job gains and a large segment of renters who earn enough to buy."
Without further ado, here are the top 10 markets in the U.S. with the highest share of renters who can afford to purchase a home:
Toledo, Ohio (46 percent)

Little Rock, Arkansas (46 percent)

Dayton, Ohio (44 percent)

Lakeland, Florida (41 percent)

St. Louis, Missouri (41 percent)

Columbia, South Carolina (41 percent)

Atlanta, Georgia (40 percent)

Columbus, Ohio (38 percent)

Tampa, Florida (38 percent)

Ogden, Utah (38 percent)
Yun expressed a lack of surprise that many of the top markets were located in the Midwest and the South. The median existing-home sales price in these two regions have been lower than the Northwest and the West for some time now, making these areas slower to recover from the recession, but making it more affordable as local labor markets improve. According to the NAR press release, these labor markets have pushed their hiring levels to at or above the national average growth rate.
"Overall housing affordability and local job market strength play a pivotal role in a renter's decision on whether to buy a home or sign another lease," said Yun. "The good news is that other recent NAR survey data shows that those residing in the two regions were the most likely to say that now is a good time to purchase a home."
Yun concluded, "With mortgage rates now at their all-time low, these identified markets are well-suited for the many renters financially capable and interested in taking advantage of the stability and wealth-building benefits owning a home can provide."
Photography by [Michael Shake] © shutterstock.com
Subscribe To Our Newsletter
Sign up with your email address to receive news and updates.