Spruce Up Your Bedroom on a Budget
November 9, 2017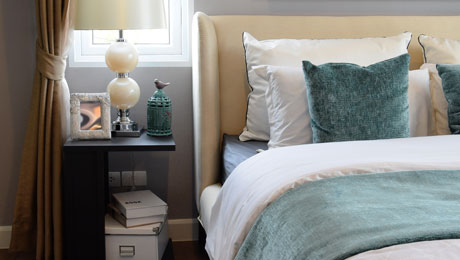 Your bedroom should be one of the most relaxing places in your home where you can always go to unwind and relax, but let's face it, sometimes we need to spruce things up a bit to make it feel brand new. Just because you want to remodel your room a bit doesn't mean you have to break the bank in order to make it as fabulous as you. Here are some great ideas to help make your bedroom feel brand new, while still being mindful of your budget:
Bargain Hunting: When it comes to looking for new furniture or décor for your bedroom, you don't always have to go to the most expensive place in town. Check out places like IKEA, Target and even Walmart – these stores always have some great deals on beautiful pieces for your home. Even an estate sale or flea market can have some great items to choose from.
Try Some DIY: If you like crafting and getting into some projects, try adding some DIY items to your room. From headboards, shelving units, to a palette table, you can really get creative.
Accent Pieces: Sometimes adding in a nice accent piece that will catch your eye is all that you need to spice things up. For example, a bold floor-length mirror, a painting or even a collage of pictures with family and friends can make a world of a difference.
Paint: Painting your room is one of the quickest and easiest things to do when it comes to remodeling. Choose your favorite color (or colors!) and get to work! You can get as creative as you want and make it fun by getting your friends involved – of course give them a big thanks with some food (and maybe some wine) afterwards.

No matter what your budget, you can always find some quick easy fixes to make your room feel brand new!

Photography by [WorldWide] © shutterstock.com

Subscribe To Our Newsletter

Sign up with your email address to receive news and updates.