Renovate Your Bathroom for the Cold Winter Months
November 17, 2017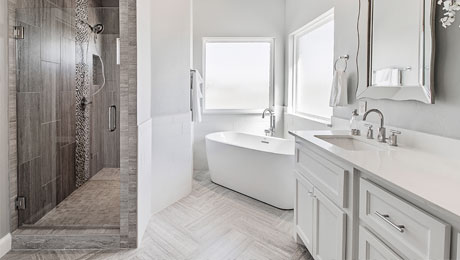 For most of us the cold weather has officially settled in making us all want to just stay inside to keep all warm and comfy in our homes, but unfortunately that's not always possible. This winter why not update your bathroom to make it the perfect escape after a long day out in the cold. Imagine filling up the tub with nice, warm water and your favorite bath bomb and a nice glass of wine to get rid of all of your stress from the day. Here are some of our favorite ideas to give you that perfect winter bathroom to retreat to:
Heated Floors – Don't you just hate waking up in the morning during the winter, not being able to find your slippers and having to walk onto the cold, bathroom tiles? That will definitely wake you right up! Instead of dealing with the cold floors this year, consider updating your floors to heated floors. You can set a timer to have the heat start up right before you have to get up in the morning so it's all nice and toasty for you when you walk in.
Full Tub – If you currently only have a shower in your bathroom right now, think about adding in a nice full tub that you can enjoy. After a long, hard day you can fill it up with some warm water and relax on your own without any interruption. Not only will you love it, but it will also add some nice value to your home in the future.
Updated Lighting – If you currently have those bright fluorescent fixtures in your bathroom, think about swapping them out for LED bulbs. Not only will this add a softer light to the room, but it is will also save you some money on your electric bill (winning!). While you're at it, also add in a dimmer so you can choose how bright or dim you want the lights depending on the time of day.
Entertainment – Although we all like some peace and quiet when it comes time to relax, sometimes having some nice, light music in the bathroom is also a nice touch. This year, consider adding in some Bluetooth speakers to the bathroom so you can play your favorite playlist while you sit back and relax.
Simplicity – After making all of the major updates, don't forget to think about the décor in your bathroom, especially the wall color. If you have a bright, loud color, considering going for a more neutral, calm color that will add a touch of simplicity and elegance to the room.
So, before the really cold winter months settle in, consider tackling some renovations in your bathroom to make it the perfect escape after a long day – especially after all of that holiday shopping!
Photography by [Christina Woods Photog] © shutterstock.com
Subscribe To Our Newsletter
Sign up with your email address to receive news and updates.