4 Ways To Stage Your House Like A Pro
March 9, 2018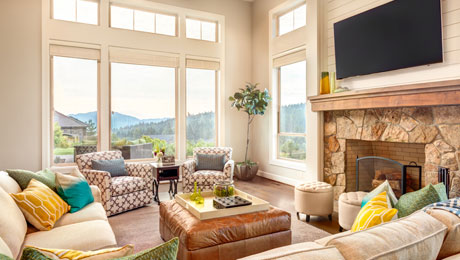 When it comes to putting up your home for sale, there are so many things to think about! One of the first things a seller needs to do is to get their place in tip-top selling shape. Staging is a crucial part in getting your prospective buyers excited about your home. To stage your house like a pro, we have compiled a few tips to make your home look like a million bucks without having to spend a million bucks:
Pay attention to your curb appeal…the first things buyer's notice before they even step foot inside of your home is how it looks from the outside. You're definitely going to want to give your front lawn a little TLC. If you yourself don't have much of a green thumb, hire a professional to help you whip your curb appeal into shape.
Bathrooms are a focal point…believe it or not, bathrooms are really important to prospective buyers. Think about it, if you are walking through a home you are considering buying for you and the family and you see an old, dirty bathroom, are you going to be excited about it? Chances are you aren't and it's probably going to have a big impact on your feeling towards the home as a whole. So, make sure to give your bathroom a deep clean and spruce up the décor.
Get rid of all that clutter…after you're done cleaning up the bathroom, make sure to declutter and give the rest of your home a good clean as well. Any clutter or mess is going to distract buyers from actually seeing themselves living in your home causing less interest in putting in that perfect offer to get your house sold.
Don't forget about the master bedroom…another super important part of your home is the master bedroom. Make sure to keep the décor in this room gender neutral so it speaks to everyone. Keep things light and simple allowing it to feel like a room for buyers to sit back and relax after a long day.
With these simple steps, you will have buyers falling in love with your home before you know it!
Photography by [Breadmaker] © shutterstock.com