Beginner's Guide to Home Automation
March 16, 2018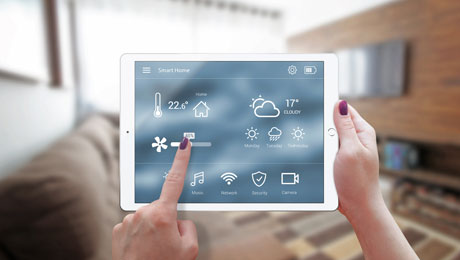 In today's world, everyone and everything is connected by technology. So, it's no surprise that now we are even connected to our homes at all times no matter where we are. How are we connected to our homes you may ask? And what exactly can we do? Well, here are just a few ways:
Let's Get Started…nowadays when it comes to home automation, you can almost connect everything using one central hub. While this is great, it can definitely be a bit daunting to someone who is new to the home automation world. Basically, once you have set up your central hub, you will be able to set your appliances throughout your home to work automatically without physically having to turn the item on yourself.
How it All Works…just like there are different cellular carriers and different types of computer software, there are several different home automation systems that work in different ways. For example, some will work through Bluetooth while others work via WiFi. Understanding the way each system works will allow you to choose the best option for your home and lifestyle.
What Can We Connect…each system is different, but today you can connect almost all of the major things within your home to your automation system. From security systems, electronics, heat and air condition.. you are all covered.
What Should We Connect…what you decide to connect to your home automation system varies depending on your lifestyle. If you tend to have a busy morning during the week, maybe you'll want some kitchen appliances to turn on at a certain time like your coffee maker. On the other hand, if you travel a lot, maybe you like your lights to turn on at night so it seems like people are home and maybe you'll need to unlock your front door for family so they can check in on everything inside while you're away.
At the end of the day, home automation is a great way to help make your life a bit easier. It can also help you save a ton of money on your energy bill by being able to control things such as the temperature no matter where you are and make sure all the lights are off when you are away. So, the real question is, why haven't you gotten into home automation yet?
Photography by [Stanisic Vladimir] © shutterstock.com