You'll Be Surprised by Today's Manufactured Homes
May 7, 2018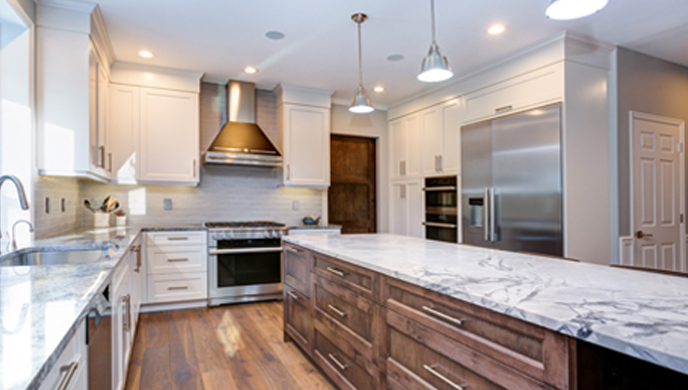 You've got to see this!
Hi everyone! Well, spring is officially here and changing the landscape before our eyes as we continue down the road. We're loving seeing the variety of everything from trees and plants to architectural styles as we go from community to community throughout this gorgeous country.
Speaking of variety, I am continually amazed by the array of features, styles, layouts, and décor that today's manufactured home designers are coming up with. Have you seen a modern manufactured home lately? If not, prepare to be surprised!
I wanted to share just a few of the things I've been most impressed by lately (it was tough to narrow it down to this list!):
Flooring
The floor in a home makes a huge impact visually and is important for its functionality. Especially if you've got pets or kids you want something that is easy to keep clean, but still looks great. I have seen some truly stunning floors in some of the models I've toured recently. Durable laminate that looks like beautiful hardwood in any shade you can imagine – I'm partial to those deep greys. Of course, hardwoods are another great option, as is tile. There are some incredible new tiles that look like stone, marble, or even with wood grain – these look great in bathrooms, or throughout the main living area.
The new carpeting that is being installed in these homes is impressive as well. High quality padding makes it feel so soft and luxurious, and they've make huge advancements in stain repelling technology. You can have that light carpet in the bedrooms without stressing out every time a child walks through the house with a popsicle.
Layout
So many people I talk to think of a manufactured home and picture low ceilings, a dark interior, and small closed off rooms. That description couldn't have been farther from the home I walked through just the other day. It was bright and airy with lots of windows letting in tons of natural light. When you first step into the home you enter a large great room with a state of the art kitchen, open dining area, and spacious living room section. At the center is a large island, with plenty of space for cooking and great for entertaining a crowd.
Finishes
It's those finishing touches that elevate a property and make it feel special. You can see the care and craftsmanship that went into building the home, and you notice them when you're making coffee in the morning or soaking in the tub after a long day. I've seen some really nice things recently such as a great looking subway tile backsplash, impressive stone tile in a master shower, and some open shelving on reclaimed wood in a kitchen.
If you haven't seen what's possible with today's manufactured homes I highly encourage you to take a look. I know you'll be as surprised as I've been!
A huge thanks to all the people that have been sharing their time with me on this trip. I've met so many warm and gracious people who have generously taken time out of their days. The thing that really strikes me is how everyone from the designers to the builders in the factories, the dealers to the installers are truly passionate about what they do. I feel very lucky to be part of an industry filled with such stellar individuals.
Well, off to the next stop! Another update is coming soon!
Photography by [alabn] © shutterstock.com