Your One-Stop Shop for All of Your Mortgage Resource Needs
July 6, 2018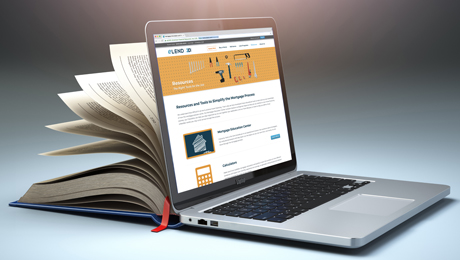 When it comes to purchasing a home, things can get pretty complicated — and stressful.
From trying to find the right mortgage program to figuring out the perfect location and house, there are so many things to consider. Thankfully, eLEND's interactive resource library can serve as a homebase for all your mortgage questions, especially for all of the first-time home buyers out there.
Our mortgage education center covers key aspects of the mortgage process, providing basic information such as explaining exactly what a mortgage is and even including a glossary that helps define terms like mortgage insurance. It offers details on the impact of credit scores and gives an overall understanding of the entire mortgage process. Most important, it serves as a guide to the many different mortgage programs available. From VA loans to FHA loans to DPA programs (all great options for first-time home buyers), we outline key information for each type of program, providing you with the information you need to choose the best option for you.
The eLEND library also has several other tools to help you, such as a mortgage calculator that will help you determine what you can afford. Simply input some data and the tool will calculate what your monthly payments will look like once you've taken the plunge and made your purchase. You will also find other important data points such as census information that can help with your decision.
Whether this is the first time you are purchasing a home or you're beginning the search for your next place, our mortgage education center will provide all the resources you need to make the best choice for you and your family.
Photography by [Black Jack] © Shutterstock.com