5 Home Renovations to Do Now if You're Selling in the Spring
November 16, 2018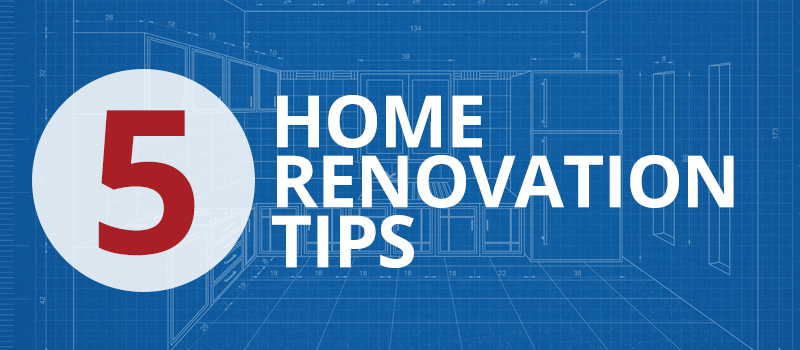 When making the decision to sell your home, every homeowner hopes to get the highest price in the least amount of time possible on the market. According to Zillow, the best time of year to achieve both of those goals is in the Spring. This season offers a number of attractive advantages for both buyers and sellers, including favorable weather and enhanced curb appeal, but that doesn't mean all the legwork of selling your home should wait until Spring, too.
To give yourself the best chance to maximize your investment and appeal to your potential buyers, some home renovations are just too valuable to pass up. And savvy homeowners will look into making those cost-effective upgrades now, so their home is in prime selling condition when prime selling season begins.
If you get started now, these 5 home renovations should give you the most "bang for your buck" come Spring:
Upgrade the Kitchen
Two rooms that really sell a home are the kitchen and master bathroom, so if your budget is limited, prioritize these spaces. With the most opportunity to recoup costs and create equity, there are a number of low-cost, high-impact updates you can make. Replacing cabinetry and old cabinet hardware can give an entirely fresh look to a highly-visible kitchen feature. You may even be able to get away with a simple and inexpensive resurfacing, depending on the style and wear of the old cabinets.
Another great "rip-and-replace" project is your kitchen's countertop. Most homeowners are not looking for ceramic or laminate countertops in their new home, so if granite is out of the budget, look into Corian or Silestone options. Replacing your kitchen sink with a farmhouse or stainless-steel option is also an affordable switch that appeals to a wide range of buyers.
For a more substantial improvement, removing a wall dividing the kitchen from the dining or family room can help open the main living area completely and make a home feel larger. Open concept floorplans are big with younger buyers as they facilitate entertaining and family time; and as the focal point of any home, they make a big impression on buyers.
Bathroom Remodel
A minor bathroom remodel can result in as much as a 102% return on investment, so it's essentially a no-brainer, especially if your bathroom is outdated. Small updates include re-grouting the tile, replacing the toilet, and updating lighting or vanity fixtures.
If your home only has one bathroom, spend your money instead on adding a second. The charm of an older home can be a draw to buyers, but they also lack a sufficient number of bathrooms for most families. A recent study showed that adding a second bath increased the value of a home up to 8.7% — twice the amount of adding a bedroom. No matter what your bathroom remodel entails, you don't want days to go by in between the plumber's visit and the electrician's visit, so timing is very important. A bathroom remodel within the same parameters isn't too challenging, but a change in layout is a more involved renovation, requiring up to 4.5 weeks of work, so let the planning begin.
Improve Energy Efficiency
With Winter right around the corner, improving your home's energy efficiency now will not only help increase the value of your home for the next buyer, but save you money. Simply adding attic insulation can recoup costs up to 116%, and that's just one of many home efficiency upgrades you can make. Check the age and condition of your HVAC, windows and water heaters to see where you can make beneficial improvements. Showing buyers the impacts of these upgrades on their future utility bills can be a deal-maker.
Upgrade the Exterior
First impressions are crucial for making a fast sale. A lot of buyers won't even consider a home if they don't like the exterior. Vinyl siding is typically a turnoff for buyers, while vertical siding is increasing in popularity. Color is extremely important as well, so keeping a more neutral and earthier tone is the best way to appeal to a larger market. New siding could take up to two weeks to install, so start planning your project now, before Winter weather hits.
Remove Carpeting & Prepare Floors
Most buyers just see carpeting as something they'll have to remove. More work for them is never viewed as a positive, and unfortunately, the longer carpet stays on the floors, the more damage it can do to first impressions, especially in high traffic areas. That's why it's important to make this renovation now.
The good news is this is one of the least expensive improvements you can make, with up to a 2.5% increase on your home sale. If you have hardwood floors underneath your carpet, it's a great opportunity to give buyers that like-new hardwood they're looking for. Rip out any old wall-to-wall carpeting and then sand and polish the floor with a low-gloss finish. Refinishing floors only takes a couple of days, but depending on how many rooms are involved, preparing your home for a project like this could be tricky, so starting now will give you the time you need.
Your home is one of the biggest investments you'll ever make, so make sure it gives you the most return when it's time to sell next Spring. Consider the renovations that could benefit the sale of your home, and contact eLEND to find out all your financing options before you get started.
Photography by [stefanphotozemun] © Shutterstock.com
Sources:
Bieber, C. (2018, April 9). Selling Your Home? These 7 Renovations Offer the Best Bang for Your Buck. Retrieved October 10, 2018, from https://www.fool.com/slideshow/selling-your-home-these-7-renovations-offer-best-bang-your-buck/
McCleary, K. (2018, September 17). Which Home Improvements Pay Off? Retrieved October 10, 2018, from https://www.hgtv.com/design/decorating/clean-and-organize/which-home-improvements-pay-off
Equal Housing Lender.
American Financial Resources, Inc. d/b/a/ eLend NMLS #2826