Can't Find Your Dream Home? Some alternatives for First-Time Homebuyers
December 1, 2018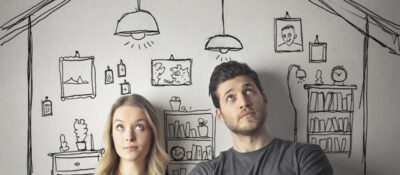 It's not uncommon for first-time home buyers to build up big expectations of finding a "dream home" — a culmination of all their hard work and sensibly-saved earnings.
And while it's called a "dream home" for a reason, it's not your only — or even necessarily the best — option for your first real estate purchase. So if the perfect home in the perfect neighborhood just isn't for sale right now, or you simply want to explore other ways a new home could put your hard-earned dollars to work, here are some smart alternatives to a "dream home" for first-time buyers.
Buying (not settling for) a Starter Home
We know starter home doesn't have quite as nice a ring to it as "dream home", but a lower-priced smaller home does offer some attractive benefits. Starter homes can help ease you into home ownership with typically smaller mortgage payments each month, helping you make smarter financial decisions in the long run.
But the biggest incentive behind purchasing a starter home is that it allows you to build equity quickly. If you're tired of throwing away money on rent, buying a smaller, less expensive home, town home, or even condo could be your best move for saving money for a larger down payment in the future. In addition, jumping into a big mortgage could lead to a large amount of debt, while hopes of building equity are erased due to higher interest costs.
As interest rates continue to rise, delaying the purchase of your first home could cost you. So for lower rates and manageable loan payments on a new home right now, consider a starter home.
Invest in a Fixer-Upper
Every neighborhood has one or two ugly duckling homes that just need a little TLC. A smart fixer-upper buyer can save tens or even hundreds of thousands (compared to the next-door neighbor who paid top dollar for the home with more initial curb appeal).
Sure, you may need to dedicate a few weekends to managing various project contractors or testing the limits of your own DIY skills, but that can also be part of the fun. A fixer-upper gives you the ability to create just the right amount of light, space, and color that you need to feel right at home. And days devoted to painting or planting with family and friends, as well as takeout lunches filled with decor brainstorming, make the work of a fixer-upper feel a little less daunting. Plus, there are a number of renovation loan options to help take the stress out of budgeting for the upgrades.
Live-in & Flip It
Many first-time homebuyers don't realize how quickly life can change. New jobs and relationships can easily alter even the most thoughtful five-year plan. For eager buyers still in a transition point in their lives, treating your first home like a relatively short-term investment instead of the be-all, end-all can help fund the dream home you really want down the road.
A "live-in flip" is where you buy a home that needs some work, reside there for about 2+ years, and then sell it for a higher price than you bought it for. In the US, as long as you live in the home at least 2 years before selling it, homeowners can receive a tax exemption for the profit they made. Not only are you building equity while enjoying a newly renovated home, but you're setting yourself up for a nice tax-free profit you can put toward your next home.
Become a "House Hacker"
An increasingly popular, more creative option is house hacking. This strategy involves using your residence to produce extra rental income. Instead of shopping for a dream home right away, you'll be in the market for duplexes, triplexes, or 4-plex buildings where you can rent the extra units out. Truly resourceful house hackers can even find ways to accomplish the same goal with single-home properties, utilizing spare bedrooms, basement apartments, and guest cottages as rental units.
With the right renovation loan and a little work, you can turn an undesirable property into an investment that helps pay for your own cost of living as you build equity and profit through rental income. If you're willing to put your entrepreneurial spirit to the test, house hacking could be a great solution for your first home purchase.
Build that Dream Home
If you can dream it, you can build it! Ok, this isn't always the case, but if budget isn't the issue and you just simply can't find that one home which checks every box on your "must-have" list, then consider building your dream home instead. If you know where you want to build, the first step is finding a lot. Some of our new home loans cover not only the home you build, but the property itself, allowing you to help finance your entire project with a single closing.
Many builders offer the opportunity to get hands-on with the design process, choosing everything from color palettes and materials to bathroom faucets and cabinet knobs. Everything will be shiny and brand new, using the latest materials and building standards to offer more eco-friendly and energy efficient features, saving you in the long run. New homes also appreciate much faster than existing homes and come with structural warranties for peace of mind. If it's in the budget, building a new home or buying a manufactured home are two great ways to get that dream home without the wait.
If you're a first-time buyer starting to explore your options, our loan experts can help simplify the mortgage process and find the right financing options for whatever new home option you choose. Contact us to learn more today.
Photography by [Ollyy] © Shutterstock.com