Outdoor Design Trends for 2014
March 31, 2014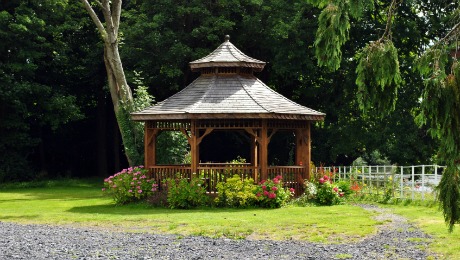 Who's ready for the lazy, crazy days of summer? After the brutal winter much of the nation has endured, it is likely that millions of American homeowners have dreamt of unwinding poolside, grillin' and chillin' with family and friends, or just gardening in the warm sunshine. Perhaps you have been contemplating how to maximize your outside spaces and their pleasure potential? Or, maybe you would like to increase your home's appeal for a spring or summer sales listing?
In an effort to discover exactly which features are the most sought-after outdoor elements, the American Society of Landscape Architects (ASLA) surveyed nearly 180 of its members. The respondents were asked to rate a number of outdoor possibilities and design aspects in terms of their popularity for 2014. They were told to consider the level of demand for several components, including installed seating, dining areas, grills, fireplaces, steps, the use of natural stone, and lighting. The rating categories examined the demand factor with a choice of either "somewhat" and "very much" in demand.
Nancy Somerville is the executive vice president and CEO of the ASLA. She has observed that over the years, homeowners have come to realize that a property with a thoughtfully planned landscape increases their quality of life and their home's value. In considering today's home buyers, Somerville reflected, "They're interested in livable, open spaces that are both stylish and earth friendly."
In reflecting on what it takes to create the ideal outdoor spaces, homeowners share a common list of desires. Here is a look at those categories:
Landscaping
In addition to making sure that vegetation is planned and controlled, there is a big trend to use native, drought tolerant plants. It seems that homeowners and gardening enthusiasts may have learned the hard and expensive way that using finicky, exotic plants is a waste of time and money.
Another wish homeowners share is the ability to grow their own fruits, herbs, and vegetables. Including such plantings into the property's landscaping was viewed as "very much" in demand.
Sustainability
This is important to the current wave of prospective home buyers. They are more environmentally conscious and often want reclaimed and recycled components, solar power, rainwater collection systems, and areas for recycling and composting. Drip/water-efficient irrigation, permeable paving, and less lawn are other typical requests.
Living Spaces
It seems that al fresco dining and living areas are here to stay. Americans have embraced this trend wholeheartedly which is why stone and brick masons are in great demand for the installation of fireplaces, firepits, and built-in pizza ovens and grills.
Recreational Options
Whenever the space, size and budget permits, homeowners are in favor of including facilities such as tennis courts, pools, saunas and spas.
Water Elements
Along with swimming pools, water elements that are viewed as more decorative were also rated as in-demand installations. Included in that category are splash pools, bubblers, waterfalls, fountains, and ornamental pools.
As for which livability features the nation's homeowners place the most value on, the landscape architects chose these four:
Lighting
Whether it is in in form of task lighting over a grill, to light a walkway or add ambiance to an outdoor seating area, lighting was rated "very much" in-demand.
The remaining three were: seating/dining, fire pits/fireplaces, and grills. Among the landscape architects, these were all considered "Top Outdoor Living Features." After all, having these types of spaces and items for dining and entertaining is what it's all about.
Outdoor Structures
Americans have moved on from the postage stamp sized patios of the 1950s. Larger patios and decks remain popular along with pergolas and terraces. Maintaining privacy in the outdoor extension of our homes is also a big consideration, which is why fences and gates are typically part of the plan.
You might also like…
Subscribe To Our Newsletter
Sign up with your email address to receive news and updates.