Boosting Curb Appeal on a Budget
July 29, 2014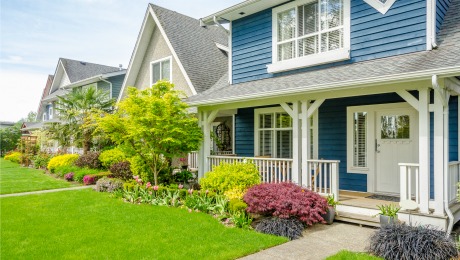 Have you finally decided to sell your home and downsize? With all of those real estate apps out there, today's discriminating buyers will likely begin doing drive-bys as soon as it's listed. Perhaps you just bought your first place and really want to get the exterior and yard spruced up? After all, everyone else in the neighborhood really seems to take a lot of pride in their home's outward appearance. Either way, boosting a property's curb appeal is only going to pay off! To inspire you and get you moving, here are a few ideas and suggestions:
Pressure Washing
This quick, affordable treatment can work wonders for dingy exteriors, dull trim, and even dirty driveways. Pressure washing is a great first step prior to painting because it leaves the home owner with a clean slate and easily removes peeling paint. More often than not, a thorough pressure washing reveals that the home does not need to be painted after all-it just needed a good scrub!
Keep the Yard Clean
There is nothing like a little sweat equity and the grounds surrounding your home is a good place to start. If you have kids, get them involved with raking, pruning, and weeding. Clean out any existing beds or natural areas, divide overgrown plantings, and get a large load of mulch. Save money by picking it up yourself if possible or have it delivered. Going this route is much easier on the wallet than buying pre-bagged mulch at the garden shop. When the mulch arrives, give everyone a small bucket and show them how to gently spread it around plants and in beds. When your yard crew understands that the recommended 2" layer of mulch will prevent weeds from growing, hopefully they will get on board. (banana splits all around for a job well done?)
Shape Up the Lawn
Use a weed and feed treatment to give your grass a little extra support. When nutrients become depleted over time, a lawn will develop bare spots and weeds can take over. If that doesn't do the trick, look into laying sod. Remember, this can be done in the most needy areas rather than an expensive overall sod installation. Just take the time to do a little research that ensures you are getting the right type of grass-sun or shade? Plus-a soil sample is never a bad idea in order to diagnose exactly what's going on. Most Agricultural Cooperative Extension Services provide soil sample kits for free or very reasonably priced.
See related post: Tips For Building a Backyard Fire Pit
See related post: DIY Home Staging Techniques
Transform and Soften with Plants
If your property is devoid of greenery, a little DIY gardening is the solution. Before buying any shrubs, annuals, ground covers or perennials, find out which zone you are in and make sure you're planting appropriately to your zone's season. Ensure success by using plants suitable for the correct zone and native, drought tolerant varieties, which will not be so finicky.
Evergreen shrubs will soften a home's foundation and hardscapes such as driveways and walkways. Plants also enhance a home's outward appearance, and remember – they produce oxygen! Read more about planting trees and shrubs here.
Illuminate Entryways and Pathways
Out side lights are inexpensive and easy to install. There are motion lights and traditional choices as well. Any door leading into the home should be properly lit, including garage doors. For other areas, like steps, around beds and along walkways, solar stick ons and stakes are ideal-they are a snap to install and remarkably affordable.
Don't Ignore Your Mailbox
For homes with post mailboxes, consider that this is often the first thing visitors will focus on. Make yours a focal point: clean it up, maybe give it a fresh coat of paint, and landscape around it. There are also hooks for mailboxes that will accommodate a colorful pot of annuals or whimsical flag.
What Looks In Looks Out
Observe your home's exterior as if for the very first time. Is the front door in need of a facelift, maybe some new paint and hardware? Are shutters grimy or broken? Do all of the window treatments match or does it look like prisoners have tried to escape and left blinds and draperies askew? While you are at it, now is probably the best time to get the glass sparkling inside and out. Look for matching window treatments at second hand shops, discount stores, or make your own.
Freshen up the porch or front entryway with potted plants. Use a few large, substantial containers in graduating sizes. They will have more of an impact than small pots that barely show at all.
Little Things Mean a Lot
For those with outdoor furniture on a porch or deck, a few new cushions or tablecloth can be like a shot in the arm for added curb appeal. Even something as simple as replacing a beat up, faded "Welcome" mat can give the place a lasting lift!
Attention to Detail
It is amazing how a small thing can cast a huge shadow on how your home is viewed. Take a step back and see if anything is preventing yours from looking its best. Many homeowners fail to realize that components like doors and windows, garish trim colors, or easy to fix issues like debris-filled gutters, are hampering their property value. Spending just a small amount of money or a few hours of time to repair, replace, or clean the exterior areas around your property will pay back many times over.
Subscribe To Our Newsletter
Sign up with your email address to receive news and updates.