Tips for Creating a Vintage Farmhouse Style
September 24, 2014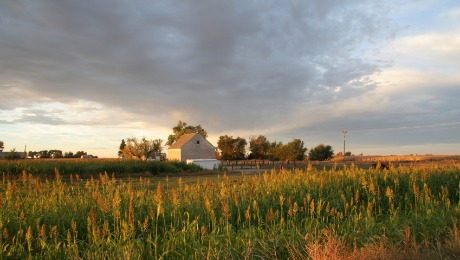 Achieving the delicate balance of a thoughtfully decorated home is not always easy to accomplish. A homeowner may spend countless hours researching how to combine the things they love and still make a credible design statement. Many homeowners are intimidated at the prospect of choosing a decorating style and fear doing so will limit their ability to express themselves. They may also worry that when a specific style is chosen, carrying it off throughout the entire home will be a challenge. Those considerations may be why the Vintage Farmhouse style is making a big comeback.
The Vintage Farmhouse look is one that's easy and affordable to pull off! Unlike so many home décor choices, it is definitely not difficult to achieve, since the whole style is anything but stuffy or formal. Think large sunny rooms, a workhorse kitchen, deep sinks, claw foot tubs, wide plank hardwood floors, baskets, mason jars filled with wildflowers, pottery, vintage china, overstuffed upholstery pieces, brass beds, hooked rugs, quilts, old toys and tools…get the picture? Here are the basics:
Wood
From exposed beams to rough hewn hardwood floors and handmade (looking) furniture, the homey warmth that wood imparts is a key ingredient. As for the furniture, it should be sturdy enough to handle the wear and tear served up by the most rowdy farmhand!
Stone
A rustic stone fireplace certainly gives off a farmhouse feel. Complete the look with a few pewter candlesticks, glass hurricane lamps, antique iron fireplace tools and bellows.
[Related Post: Tips for Building a Backyard Firepit]
No frills fabrics
Forget about delicate synthetics or slick chintzy upholstery fabrics. In your hardworking farmhouse, no-nonsense, easy care, natural woven cottons are what you want. Look for neutral solids to mix and match with small prints, checks and plaids. Of course no farmhouse is complete without a few quilts and perhaps some pretty lace curtains.
Practical or natural decorative items
Consider that this style evolved from generations of families who lived by the seasons and made their livelihood from the land. Rather than fragile knick-knacks, the homes were adorned with things that served a purpose or had some relevance to their existence, as opposed to just meaningless tchotchkes. For examples, baskets were used to keep things handy or for gathering a few eggs or veggies before mealtime. Other things that did double duty were milk crates, pottery crocks, and mason jars. How about a pot rack made from an old garden ladder or chicken wire and planks?
Mix and match
Vintage Farmhouse is the perfect style in which to mix things up with traditional, painted and distressed finishes. Have some fun as well with artwork, stencils or fabric that pays homage to every farm's favorite residents: chickens, cows, roosters, pigs, goats, and horses.
Perhaps you're thinking that some of these true vintage items may be as scarce as hen's teeth. Thankfully, these days if we want to capture the Vintage Farmhouse look in a big way, there are companies that will oblige us with authentic looking sinks, furniture, and the piece de resistance – appliances! Who knew you could actually buy a state of the art fridge that looks just like an old-fashioned ice box?
To get your ducks in a row and make hay while the sun shines, here are a few links to get your wheels turning:
Subscribe To Our Newsletter
Sign up with your email address to receive news and updates.