Easy and Affordable Projects to Boost Curb Appeal
November 26, 2014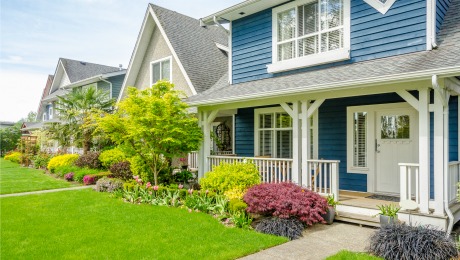 If it has been a while since you paid a visit to the neighborhood big box hardware store, you may be unaware of some new ways for sprucing up exterior areas around your home. In an effort to make DIY projects easier and more affordable than ever, home improvement manufacturers have been busy designing a variety of new products. The good news is that you may not need a subcontractor or even any special tools – just a little inspiration!
Windows and doors
Dressing up these basic components with extra trim makes the entire home look richer and more finished. Since many come in standard sizes, extra trim pieces are often precut and prefinished. In addition to being simple to install, the new trim selections come in a variety of styles sure to enhance any type of architecture.
Adding shutters is another way to embellish windows and create decorative interest with a pop of color. Shutters also increase your home's curb appeal score. Like trim, shutters are available in many different styles and colors and are a snap to hang. It's also a rewarding DIY project that has a huge return, especially when you make your own from basic pieces of wood. Plan what you'd like and most hardware stores offer precision cutting on site. Then, all you'll need to do is paint, assemble and hang your one-of-a-kind shutters!
Steps and foundation
Nothing says "stately and affluent" quite like natural stone. Even if you've never considered incorporating this versatile element into your design scheme, you may want to give it a try. Creating the illusion that your home's foundation and front steps are built from stone is now possible and much easier on the wallet. Stone veneer kits are available and mounted with screws or adhesive. Some are even put in place with a quick peel and stick!
Carry the stone theme a bit further and build a low "dry-stack" retaining wall or define natural areas and flowerbeds with pieces of river rock, granite, or slate. Check out even more awesome ideas for using stone to improve the look of your property here: http://www.sunset.com/garden/landscaping-design/landscaping-ideas-with-stone
Boxes of blooms
Although you may not be a Master Gardener, keeping a few window boxes going is a nice way to add more curb appeal. Flowers and greenery are welcoming and can add charm and color to what may otherwise be a drab exterior. There are lots of new types of window boxes that are so attractive and stress-free to put up that there's really no good excuse not to have a few!
Some are attached with brackets and others are made to straddle porch and deck rails. Regardless of the ones you choose, be sure to fill them with plantings that are in your Garden Zone and use a potting soil mix that retains moisture. That way, it won't be critical if you forget to water them every now and then. Don't know your zone? Find out: http://www.garden.org/zipzone/
Take the garage door from grunge to glam
Many homes have attached garages that face the street, so that's often the first thing passersby see. Sometimes a neglected garage door can bring down the entire exterior of a home. In addition to keeping it clean, consider a new coat of paint. It could be an all over paint job or something more decorative like contrasting colors or a stenciled design. Just remember that 'less is more" and a little color can go a long way. Another idea is to add new hardware, which can help define the door and also compliment the home's architectural style. Adding or changing windows in a garage door can make a huge difference towards its aesthetic appeal. Again, extra details can give a home's outward appearance a big boost. Check out 10 garage makeovers here: http://www.bhg.com/home-improvement/garage/ideas-inspiration/garage-doors-10-garage-makeovers/
Keep uglies out of sight
Untidy garden hoses, sports equipment, rakes, brooms and trash cans should all have their own hiding spot. Finished wood, vinyl, and lattice-work panels are a great way to build either a partition or 3-sided cubby for hiding these useful but less than attractive items most homeowners need. For smaller items that are used outdoors, like skateboards, balls, dog toys, and hand tools, plastic storage benches are an effective solution.
In addition to these types of projects, remember other little details also greatly impact the look of your home:
Keep the yard mowed and raked

Driveways and walkways should be clear of debris, leaves, and snow

Pressure wash and/or paint to freshen up the home's entire exterior
Wash windows and keep other outside spaces like porches, decks and patios clean and clear of cobwebs, leaves, etc.
Clean those gutters!
Perk up a freestanding mailbox with a seasonal flag or plant a small garden plot at its base
Invest in a few new items: house numbers, front door mat, bird feeder, door knocker, etc.
Other Home Improvement Posts You Might Like…
Tips for Creating a Vintage Farmhouse Style
Subscribe To Our Newsletter
Sign up with your email address to receive news and updates.