4 Reasons Why You Should Buy A Home Before School Starts
July 26, 2019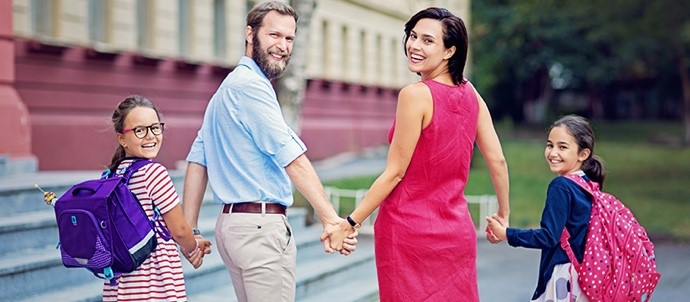 It's no secret that the market is sizzling in the summertime. The longer days and warmer temperatures have buyers out and about, so sellers are smart to take advantage (reversely, many buyers shy away from this time of year to avoid the competition). But buyers also enjoy a number of benefits when purchasing a home in the summer months. Here are four reasons why you should buy a home before school resumes.
School's Out for The Kids
Searching in the summer means kids' schedules will likely allow them to come on showings and feel like part of the home search process. When every member of the family is able to give a stamp of approval, the adjustment will go much more smoothly. Plus, moving with kids in general is no easy task, especially if you have to uproot them in the midst of classes and practices, which makes the transition harder on them.
And if the sellers also have kids, it could also play to your advantage. They may be more motivated to finalize a sale before school resumes, giving you more bargaining power.
There Are Simply Less Options in the Fall
Sure, competition is lower in the fall season, but so is the inventory. Waiting until fall may mean it's not uncommon to spend more time shopping with less success; why search for such an important investment when your options are limited?
Of course, the right home could come around at any time, but there's a reason why they say summer is "the hottest season." Homes are hitting the market every week, increasing the chances of finding that one place that's just right for you and your family. Plus, in less competitive markets, more homes for sale could give you negotiation leverage when it's time to talk prices.
Buying and Selling at The Same Time Could Be Easier
Unless you're searching for your first home, you're probably not just a buyer, but also a seller. Buying and selling is a balancing act that is much easier with the extra time and scheduling flexibility that summer potentially provides. If you need to sell your current home before you can buy another, now is the best time to do it. In the summer's seller market, your home might be more likely to sell, helping ease and expedite the transition into your next home.
You Won't Necessarily Pay More
It's true home prices tend to peak between June and August, but to generalize that homes sell at higher prices in the summer versus the winter is a myth. Despite being a seller's market, it's important to remember there are a lot of factors that go into a home's asking price. Every market is different, and with more homes for sale in summer, that means more competition for sellers too. As a buyer, you could enjoy that leverage as well.
Whether you're buying your first home, upgrading from your current home or investing in a second home, beginning the process in the summertime definitely has its benefits. Between taking advantage of lighter schedules and leveraging the inventory-heavy market, now is the time to make the move.
No matter what your home goals may be, eLEND® is ready to help you find the mortgage that's right for you, so you enjoy an even simpler and hassle-free home buying experience. Contact us to get started today.
Photography by [Evgeny Atamanenko] © Shutterstock.com