RealtyTrac Names Top Beach Town Housing Markets
July 22, 2014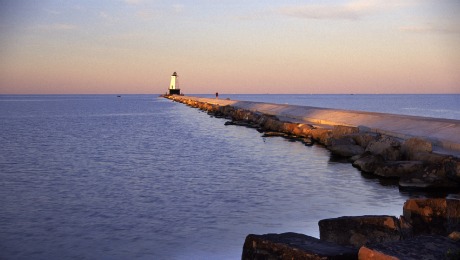 Have you ever dreamt of going coastal? Do you ever fantasize about swapping that brief case and business suit for a surfboard and board shorts? How about replacing your daily commute with a beach cruiser? If you are ready to get serious, stock up on sunscreen and some comfy flip-flops because the folks at RealtyTrac have already done a little homework for you!
In May, the firm, which specializes in housing data analysis, published its latest report on the nation's "Top 20 Beach Towns." To begin, RealtyTrac's reviewers chose the best 100 beach towns based on: average temperature, percentage of sunny days, number of positive air quality days, and crime statistics. They next factored in single-family home and condo prices. The final 20 towns share a median home value of under $1 million. Sound good so far?
From the survey results, among the top 20, the outcomes were as follows:
11 of the top 20 towns were in Hawaii, 5 in California, and 4 in Florida.
The 
average low temperature was at least 60 degrees, and as already mentioned, the median home values fell below $1 million.
Even for those who may not yearn for strolls along the strand, gentle sea breezes, and the sound of laughing gulls, purchasing coastal property is an almost guaranteed sure thing.
RealtyTrac's VP, Daren Blomquist reflected, "Buying near the beach is one of the best ways to ensure a property will appreciate in value. Whether buying for retirement, a vacation home or a primary residence, homes located in quality beach towns benefit from virtually unlimited demand and a finite supply of land to build on."
Even though Hawaii dominated the results, the number one spot went to Hobe Sound, FL. It has a surprisingly small population, with just under 15,000 residents. The Sunshine State coastal town is situated midway between posh West Palm Beach and retiree-friendly Port St. Lucie. Like the other contenders, it boasts low crime and great weather. Perhaps it biggest strength is home affordability. According to the RealtyTrac report, "The town ranked No. 1 on the list thanks to its low median estimated market value of homes and condos: $191,189."
Of the 4 California towns than were in the top 20, San Clemente is likely the most well known. Once the favorite retreat of President Richard Nixon, it's easy to fall in love with this cool little SoCal town, known as the 'Spanish Village by the Sea." San Clemente is regarded as a surfer's paradise and known for its charming beachfront downtown, which is dotted with interesting eclectic shops and eateries. It is truly amazing how many icons of the surf industry began here including Hobie, Lost, and Rainbow. After a session at nearby Trestles, Trails, or Old Man's, locals like to grab some fish tacos or sushi.
San Clemente ranked #19 on the list. This low position definitely has something to do with home prices, since the median is on the high side: $851,968. Besides that, things are pretty rosy across the board with a grade of A for crime, 100 good air quality days annually, 61 for the average temperature and 76 days of sunshine.
Considering that the list of 20 Top Beach Towns was dominated by Hawaiian destinations, you may be ready to shop for a ukulele! All 11 towns in the 50th state were given a B for their crime rates, which isn't the best but it's certainly not bad. In addition to a lovely, tropical location and fairly safe environment, the Aloha State certainly has plenty to offer in the way of lifestyle choices.
The town of Waianae was ranked #3. This had a lot to do with how reasonably priced homes and condos are: $309,328 is the median. The weather in this seaside town is almost as sweet as a perfect pineapple: 100 days of good air quality, 74 sunny days, and a delightful average temp of 76. According to the latest U.S. Census, around 13,177 people reside in Waianae. Located on the big island of Hawaii, there is plenty to do here in the way of beachy activities. Along with stunning beaches and Yokohama Bay, it is also just along the edge of the breathtaking Waianae Mountain Range.
Curious about which other coastal destinations made the cut? To see the entire list from RealtyTrac, please use this link: http://www.realtytrac.com/content/foreclosure-market-report/top-20-beach-town-housing-markets-8069
Of course you're curious about what's on the market right now. After all, summer is far from over and there's still plenty of time to relocate!
Two homes for sale in Hobe Sound, FL:
7732 SE Bay Cedar Circle
3 bed, 2 bath
$229,711

6823 SE Bunker Hill Drive
2 bed, 2 bath
$129,900
Two from San Clemente, CA:
2926 Calle Heraldo
4 bed, 2 bath
$779,900
100 Calle Campanero
3 bed, 4 bath
$499,000
Two Waianae, HI listings:
87-105 Kulaaupuni Street #2
4 bed, 3 bath
$385,000
84-740 Kili Drive #624
Studio, 1 bath
$108,000
Other posts you might like…
Subscribe To Our Newsletter
Sign up with your email address to receive news and updates.