New Jersey Nightlife Offers Something for Everyone
September 29, 2016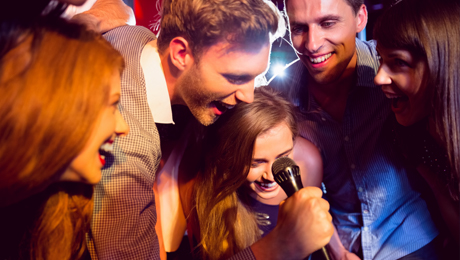 You don't have to live in Manhattan to experience first class nightlife and entertainment. From dance clubs, Jazz clubs, and comedy clubs to craft breweries, BYOB art classes, and wine tastings, New Jersey is home to some distinctive nightlife activities.
Laugh out Loud
The art of making people laugh is far from dead. Because of its proximity to New York City, New Jersey comedy clubs can attract some top talent. Comedy clubs are the perfect place to hang out with a group of friends or business colleagues, and New Jersey has some lively ones like Bananas Comedy Club in Hasbrouck Heights, Catch a Rising Star in Princeton, and The Borgata Comedy Club in Atlantic City.
Uncork Your Creativity
Not everyone chooses large crowds and loud as their entertainment of choice. For those looking for something new, they might consider combining cocktails (or non-alcoholic beverages and snacks) and painting; the perfect activity for an enjoyable date, a family night, or a girl's night out with friends. Over the past few years, the trend of combining wine and paint art classes has grown considerably as individuals look for more laid-back, culturally-inclined nightlife experiences. New Jersey is home to venues like Canvas and Cocktails, Wine and Design, and DIY Uncorked, among many others.
Dance the Night Away
Whether it's Hip-hop, Top Forty, Latin, Jazz, or Reggae, for anyone who wants to get out and dance, New Jersey is home to some popular dance and entertainment clubs. One of New Jersey's most elite dance clubs, Bliss, has a Las Vegas vibe with its high-tech LED and strobe lights. Room 84, Hoboken's premier hip-hop club offers a state-of-the-art music system and an amazing lineup of DJs. Nothing beats a live Jazz show experience, and Northern New Jersey is home to some great venues like the Shanghai Jazz Restaurant and Bar, The Crossroads, and Trumpets Jazz Club and Restaurant. In Central New Jersey, feel the Latin energy of reggaeton and salsa music at Club Coco Bongo and Perle night clubs.
Channel Your Inner Songbird
Karaoke is not going away, in fact, it's as popular as ever. From Central to Northern to Southern New Jersey, people gather together and let loose of their inhibitions in front of strangers and friends as they belt out their favorite tunes in low-key, local establishments like Grasshopper off the Green, The Famished Frog, and the Wicked Wolf Tavern.
Enjoy Craft Brews
61. That's the number of production breweries proud to produce their suds in the Garden State. An additional 24 soon-to-open startup breweries are in various stages of licensing and permits. That's good news for beer-lovers who search out full-flavored beers. Craft breweries like Carlton Brewing, Eight & Sand Beer Co., and Lunacy Brewing, just to start, offer patrons a place to drink locally in a neighborhood pub-style atmosphere where they can hang out after work, take tours of the brewery, and enjoy tastings so they can explore different styles of beer. For those who aren't beer drinkers, but enjoy experimenting with other types of spirits, visit New Jersey's meaderies, distilleries, cideries, and wineries.
One person's idea of nightlife and entertainment varies from the next, and New Jersey has got something for everyone. That's what makes the Garden State the perfect place to live, work, and play. If you're thinking about a move to New Jersey, let eLEND help you find the right home mortgage loan.
Subscribe To Our Newsletter
Sign up with your email address to receive news and updates.